In a country so often plagued by darkness the 2022 SA Hockey U21 IPT has proven that the future of hockey in the country is blindingly bright. 180 goals, over 48 games. 5 penalty shootouts and two very deserving winners.
South African International Owen Mvimbi had led his team to the final and they faced a tough contest against the brilliant Kagiso Mathaba led Northern Blues side. A frenetic final was brought to life in a wonderful second quarter. Northerns took the lead with a speculative ball driven into the circle and superbly finished by Richard Porter. But they were pegged back by Southerns Colin Hannie who was on hand to finish into the net after wonderful work down the side for Southern Gauteng.
The moment of the final was to come as South African Indoor International, and member of the 2021 Junior World Cup Squad Marvin Simons produced a sensational solo goal that was reminiscent of his viral goal in the Aiken trophy a couple of years back. Southerns were able to add to the tally with a penalty stroke converted by Luke Lourens. It was the last significant moment of the match as the Johannesburgers took home the title!
In a game with more cards than I got for my last birthday Western Province secured the bronze with a 2-0 win over Eastern Province.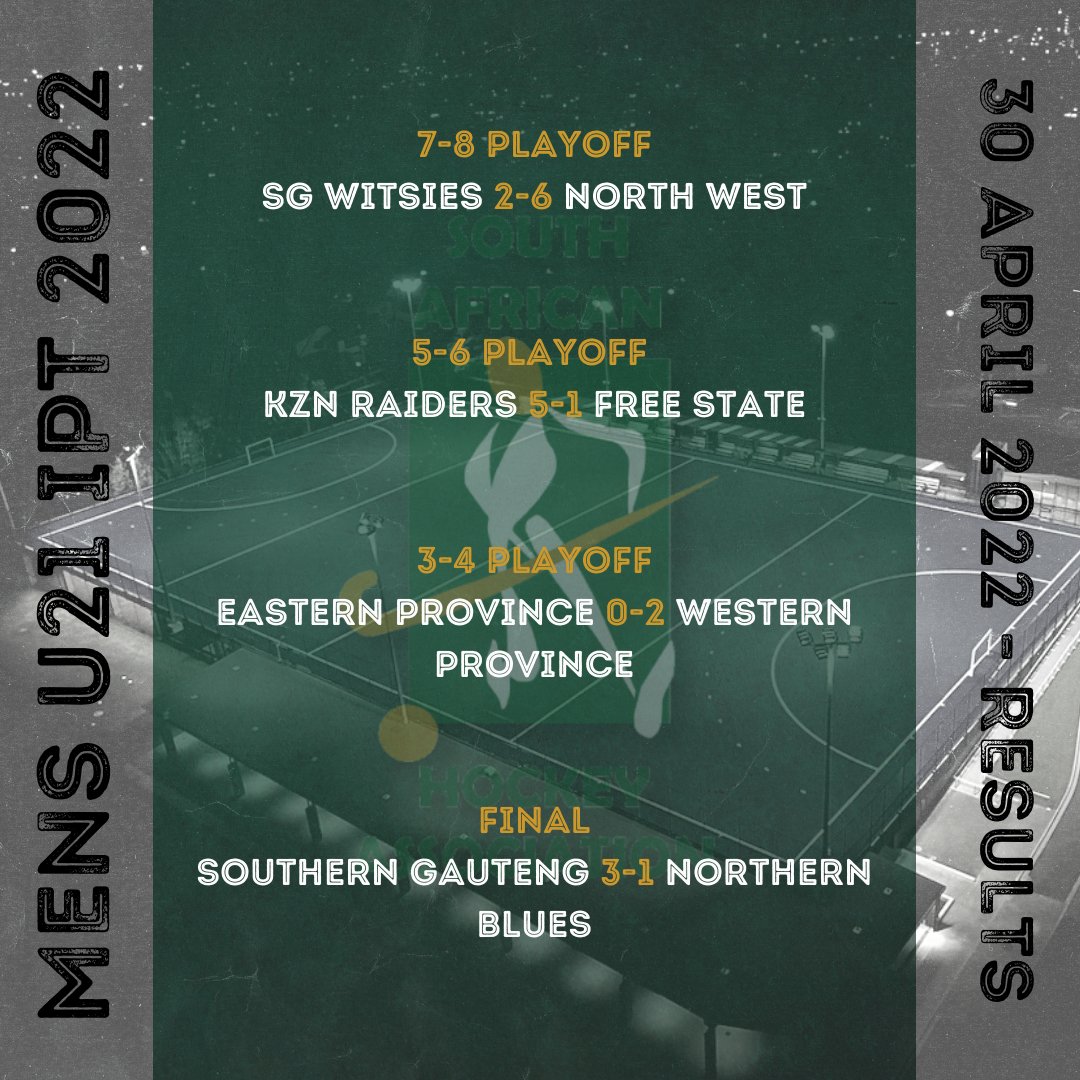 The Southern Gauteng and Northern Blues women had met in the group stages finishing level in that game without a goal being scored. It was going to be an evenly contested tournament and we saw exactly that as the two teams faced off.
The ladies in Blue were the opening statement makers when they turned an untidy penalty corner into a goal. The injection was not trapped effectively but quick thinking meant that the ball found its way back to the injector Anrize Smit who finished easily and effectively. It was a lead they would hold on to until half time.
In the third quarter though, newly appointed SA Womens Hockey 5s Coach Tsoanelo Pholo saw her side reinvigorated and restored parity with Jesquinique Coltman taking the honours. A brilliant run through the middle saw Coltman open in the circle, she received the ball and finished with the coolness so often associated with Pholo herself.
The two teams couldn't be separated, and the title would be decided by a penalty shootout. Or should we say it was decided by Amelie Classen. The Northern Blues shot stopper faced four showdowns saving three and the fourth was missed. At the same time her team were scoring to take home the 2022 title and joy for Omari Pienaar.
The Bronze medal went to Western Province who came from behind twice to triumph over KZN Raiders by 3-2.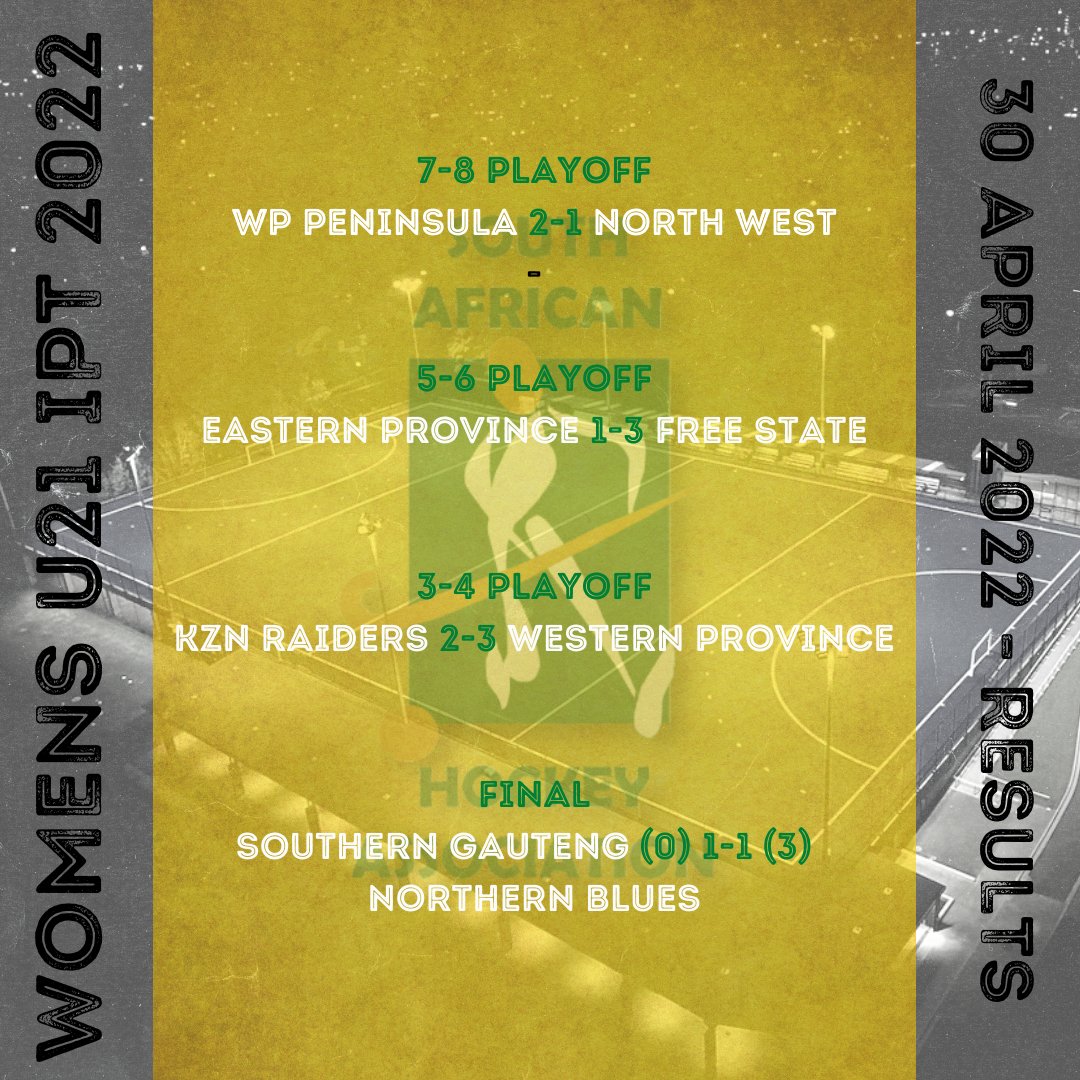 SA UNDER 21 IPT 2022 FINAL PLACING – MEN
8 - SG WITSIES
7 - NORTH WEST
6 - FREE STATE
5 - KZN RAIDERS
4 - EASTERN PROVINCE
3 - WESTERN PROVINCE
2 - NORTHERN BLUES
1 - SOUTHERN GAUTENG
SA UNDER 21 IPT 2022 FINAL PLACING – WOMEN
9 – EP SETTLERS
8 – NORTH WEST
7 – WP PENINSULA
6 – EASTERN PROVINCE
5 – FREE STATE
4 – KZN RAIDERS
3 – WESTERN PROVINCE
2 – SOUTHERN GAUTENG
1 – NORTHERN BLUES