The South African Hockey Association invites all interested coaches to apply for the position of South African Women's Hockey Head Coach following the application process below.
Job Specifications for the Role
Basic Requirements
Candidate must reside, or be able to obtain residency, in South Africa
Candidate must be able to work within South Africa
Candidate must have sound references
 Minimum Requirements
Candidate must have a recognised Coaching Qualification endorsed by their National Hockey Federation or the FIH.
Relevant senior National or International Coaching Experience
 Key Competencies and Requirements
Candidate must have the competencies to work and conduct their duties within the context and systems of operation of the South African Hockey Association
Candidate must have an understanding of, and competencies to work in, the current South African Hockey context and South African Sport context ensuring transformation and access for all players into the game.
The candidate must be able to exhibit competency in strategic thinking and operation
The candidate must be able to operate independently
The candidate must possess people/personnel management skills
Candidate must have a working knowledge of financial systems and policies around international sport teams.
NOTE: Applicants are to note that this is a volunteer position
> 
In March 2015 Sheldon Rostron was appointed head coach of the South African Women's Hockey Team on a contract until the end of the 2018 Hockey World Cup, in line with the policies and procedures of the South African Hockey Association of appointing coaches on a world cup cycle. Following the completion of the 2018 FIH Vitality Hockey Women's World Cup Rostron's contract has come to an end and the process to appoint a coach for the next World Cup cycle is due to begin. Sheldon has elected not to reapply for the position going forward and thus ending his 3 and a half years as the National Head Coach.
Sheldon was first brought into the national structure as a specialist trainer and goalkeeper coach in 2010 under head coach Giles Bonnet. In this time, he also performed various roles including stand-in assistant coach and team manager. Notable events amongst others under his belt with the national team are the 2012 Olympics, the 2014 Commonwealth Games, the 2014 FIH Hockey Women's World Cup, the 2015 African Cup for Nations, the 2017 Hockey World League Semi Finals and the 2018 Vitality Hockey World Cup.
As head coach Rostron got 57 caps, winning 22 and drawing 10 (as per the FIH TMS). The fifth placed finish at the FIH World League Semi-Final in Johannesburg that qualified South Africa for the 2018 World Cup was the outstanding performance in his time, where South Africa were desperately unlucky not to beat Germany in the Quarter-Finals. The South African coach also completed the remarkable double in 2017 when he coached the Men and Women to the African Cup of Nations titles, a double feat rarely achieved by a coach.
Sheldon will now focus on his new role within the Sports Department at North West University, while a newly appointed coach will guide South Africa to the Hockey Series Finals in a quest to qualify for the 2020 Olympic Games.   
SA Hockey CEO Marissa Langeni thanked Sheldon for his service to South African Hockey.
"The South African Hockey Association would like to thank Sheldon for his remarkable contribution to the national women's hockey team. He has been a committed coach, engineering and implementing a dedicated program with limited resources. Sheldon's tenacity ensured that the team always came first. We would like to wish Sheldon well for his future endeavours."
Photo: Sean Burke
There was realistically more hope than expectation as Supergroup South Africa took on World number 3 Argentina in their final game of the FIH Vitality Hockey Women's World Cup. The African champions had experienced a harrowing tournament so far falling short against Spain and Germany, to all but dispel pre-tournament optimism.
The match marked the 250th match for South Africa for stalwart Lisa-Marie Deetlefs. If for nothing else the team would have been committed to making this a memorable match for the defensive star. And it appeared to be exactly the case as the Supergroup South African side put out a defensive masterclass in holding off an Argentina side that looked short of the regular magic.
Phumelela Mbande will take most of the plaudits, rightfully so, as the player of the match was also undoubtedly South Africa's most outstanding player of the World Cup. There may be questions about why she was subbed against Spain, but Mbande does her talking on the pitch and was on sensational form in not conceding from 13 penalty corners and at least ten further field goals. The biggest question going forward is how will Phumz manage here professional career and her sporting one, because she has become that important to the national team.
South Africa's strikers had failed to get on the scoresheet throughout the tournament so far, but Jade Mayne had made a menace in the previous games through outstanding movement and positioning. That it was her that got the goal through an opportunistic move and finish was almost a sense of inevitability as South Africa took a surprising 1-0 lead into the Half-time break.
Simone Gouws, who made her debut only in the matches against Canada during the pre-World Cup camp, showed remarkable maturity and alongside the likes of Kara-Lee Botes, Erin Hunter and Deetlefs will continue to develop remarkably. Her performance during the World Cup left a feeling of optimism for the future of SA Women's Hockey.
For all the defensive superlatives that were hurled South Africa's way, the weight of pressure eventually did tell, and Argentina pulled level through Maria Granatto, they were not able to breach the defence again, in a display almost as effective as the mythological Trojans in defending their city.
So, the South African World Cup dream is over for another four years, the team will have a lot of questions to answer and plans to make, but the performance and result against Argentina could be the catalyst of belief that drives us to another level.
Supergroup South Africa took to the field to Lee Valley Tennis and Hockey club with only one thing on their mind. Victory against Spain was the best opportunity for Sheldon Rostron's side to progress to the knock-out stages of the FIH Vitality Hockey Women's World Cup.
The side had shown glimpses of their game play ability in the opening game but were unable to convert chances and lost the midfield battle. Missing Nicolene Terblanche was going to make the challenge in the midfield even more daunting for the South Africans. The co-captain had been ruled out due to the concussion she received when she took a ball to the head in the opening game.
Rostron would have wanted his team to show a dedicated start to the game, but it took just Spain's Red Sticks a few minutes to exert their dominance. That dominance was converted into a 2-0 advantage, with Lola Riera's unstoppable penalty corner drag-flick into the top right corner being complimented by a wonderful passing move that tore open the South Africa defence to enable Berta Bonastre to tap in.
With the prospect of needing to beat Argentina in the final group game with defeat South Africa came out with renewed vigour and pulled a goal back in the third quarter through Kara-lee Botes. However instead of sparking the African champions into action the goal seemed to inspire Spain as the European nation produced scintillating wave after wave of attack. The South Africa ladies were unable to cope with Carlota Petchame, who netted two open play strikes of differing styles but both superb in quality before Carola Salvatella made it 5-1 with a close-range finish at the end of the third quarter.
Spain continued their outstanding form throughout the fourth quarter, with their excellent penalty corner routines resulting in further goals. Riera made it 6-1 with another ferocious flick into the roof of the South African net before Bonastre joined Riera and Petchame as players with a two-goal haul from the contest with another set-piece before the end.
The result was a devastating blow for South Africa that left their World Cup dreams in tatters. Although not impossible the team now face a daunting challenge of having to beat Argentina and overturn a goal difference disadvantage as well.
Spain 7 – Lola Riera (2' & 48'), Berta Bonastre (11' & 55'), Carlota Petchame (37' & 42') & Carola Salvatella (45')
South Africa 1 – Kara-lee Botes (35')
Lee Valley Hockey and Tennis Centre in London played host to the opening game of the 2018 FIH Vitality Hockey Women's World Cup as SuperGroup South Africa took on Germany. The two teams took met at the FIH World League Semi-finals in Johannesburg last year and South Africa would have been motivated by that near miss.
But Germany were up for this game and in truth dominated from start to finish with a superb pressing display to limit the South African possession and chances. South Africa were kept in the game by a splendid display from Phumelela Mbande. The Article Clerk goalkeeper continues to get better with each game for the national side and is a joy to watch. As much as she was in form she could not stop Viktoria Huse from giving the European's the lead.
In the second quarter the South African ladies grew into the game holding a bit more possession even rallying after Nicolene Terblanche was taken from the field for concussion testing after a fierce strike to the head. Fortunately, Nicolene has been given the all clear and confirmed this with me after the game ending.
In the third quarter South Africa would have been disappointed to concede so early in the period after a sensational Phumi Mbande shoulder save almost denied the Germans only for Charlotte Stapenhorst to finish the rebound. South Africa refused to lie down though and a combination of great saving from Mbande and superb last ditch defending particularly by Kara-lee Botes and Erin Hunter (who got stitches in the finger as a reward for her efforts). South Africa then were awarded a penalty corner which Lisa-Marie Deetlefs finished superbly.
Germany were unfazed and while the likes of Kristen Paton and Ongi Mali tried their level best, Germany continued to surge and the pressure eventually told when a review for a penalty corner was awarded a stroke. Huse stepped up to fire it home and make it 3-1, which would remain the score at the completion of the game.
Its back to the drawing board for Rostron and the team as they look to mastermind a victory over Spain on Thursday, which will keep their hopes alive in the tournament.
Day 1 Results:
Germany v South Africa 3-1
England v India 1-1
USA v IRL 1-3
Australia v Japan 3-2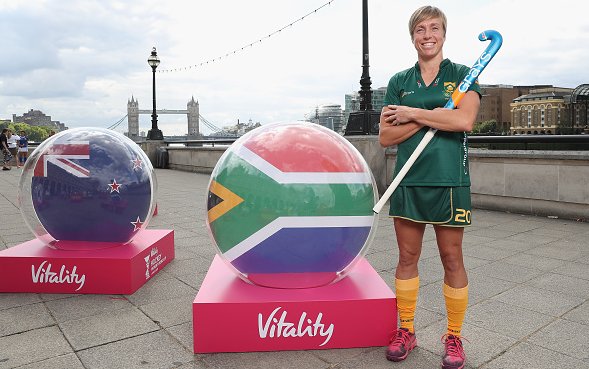 It's been four years since the curtains closed on the FIH Hockey Women's World Cup in Netherlands. South Africa left that tournament with a credible 9th place finish, the best since the 7th place finish in 1998. That team featured a host of experienced players that have subsequently hung up the boots including world record scorer Pietie Coetzee, the superb Marcelle Keet, shot stopper Sanani Mangisa and the likes of Kelly Reed, Kathleen Taylor, Tarryn Bright and of course inspirational skipper Marsha Cox. It was also the last tournament for outgoing coach Gilles Bonnet.
In the four years that have followed new head coach Sheldon Rostron has done a phenomenal job of balancing the budget, the resource limitations and building a new squad ready to take on the now expanded 16 team Hockey Women's World Cup. This will be South Africa's sixth appearance and the new format promises a tough challenge where early defeats raise the pressure immediately.
Eight of the 18 players in the squad have played more than 100 games for the National team including Shelley Jones on 273 and Lisa-Marie Deetlefs on 247. Alongside England-based striker Dirkie Chamberlain and the co-captains Sulette Damons and Nicolene Terblanche, this experienced core will be integral to South Africa's chances of progressing to the knock-out stages in a challenging group.
Here is the FIH look at Group C (Source - http://fih.ch/events/world-cup/world-cup-2018/hockey-world-cup-london-2018-w/news/latest-news/a-peek-at-the-pools/)
Rebuilt and bristling with ambition, Argentina (WR:3) arrive in London with high hopes of a medal. Standing in their way in this pool are three teams that all have the players to provide an upset. Adrian Lock's Spain (WR:11) have a talented and experienced team that is awash with speedy, aggressive players. Leading the team is Georgina Oliva, who has nearly 200 appearances and is Spain's creative hub.
South Africa (WR:14) is a team with a point to prove, having missed the 2016 Olympics due to a lack of support from its own National Olympic Committee. The team will be determined to establish themselves back at the top table at a major international and all the more dangerous for that ambition.
And Germany (WR:6) will always be a threat. The team has been on the up recently, with a bronze medal at the Rio 2016 Olympics and a glorious gold medal at the Indoor World Cup. Long-serving captain Janne Müller-Wieland and her team would love to be crowned double World Cup champions and they have the balance and experience in their squad to make that happen.
South Africa secured their spot at the World Cup with a fifth-place finish at the FIH World League Semi-Finals, only just falling short in a cracking quarter final with Germany that would have seen them qualify for the World League Finals! They further cemented their status as Africa's best when they romped to the African Cup title a few months later.
Sulette Damons – co-captain of the SA Hockey side shared her thoughts with me, "We've been working on a lot throughout our 4 weeks build up ahead of the Vitality Hockey Women's World Cup in London. It's been great to have the team together again since the commonwealth games. We are excited to get started this weekend, it's an exciting tournament for hockey as well as women in sport. It is always a privilege playing in the Green and Gold representing your country at a world stage, we are excited to test ourselves against the world's best!"
The waiting is now over and the ladies will be excited to get on the pitch. We will have all the action and reviews of the South African performance on SA Hockey throughout the tournament. In the month of Nelson Mandela's birthday in his centenary year we wish the girls well and end with this thought from Madiba.
"Sports have the power to change the world. It has the power to inspire, the power to unite people in a way that little else does. It speaks to youth in a language they understand. Sports can create hope, where there was once only despair. It is more powerful than governments in breaking down racial barriers. It laughs in the face of all types of discrimination. Sports is the game of lovers."
On Thursday the Bryanston Country Club was the venue as new SA Women's Hockey sponsor, SuperGroup, hosted a fantastic send off for the squad ahead of their departure to the Vitality Women's Hockey World Cup. The eighteen selected players received their playing kits as well as some words of inspiration from various stakeholders present on the evening.
Peter Mountford, the Chief Executive Officer of SuperGroup, encouraged the players to take their experience of hardships and turn it into victory, to play with heart and to make the country proud. Peter spoke about his pride in linking up with the SA Women's Hockey team and the belief that the two brands can stand shoulder to shoulder as proudly South African icons.
Luzuko Koti, the Director of Communications and Outreach at Nelson Mandela Foundation, then encouraged the team to summon the spirit of Madiba in the centenary year of his birth. Nelson Mandela was incredibly fond of sport and constantly used it as a vehicle to unite South Africans. We look forward to the South African Women embracing this spirit in London.
Sumaiya Khan, the Chief Operations Officer of the Department of Sport and Recreation, then shared a message highlighting the advancement of women in sport, coming at a time when South Africa has its first ever female Sports Minister in Honorable Minister Thokozile Xasa. And as she poignantly wrapped up to the ladies "You will go out there, you will have fun and you will make our country proud, as you always do!"
Marissa Langeni, the Chief Executive Officer of South African Hockey, as well as Sheldon Rostron, Head coach of the National Ladies team, both shared their appreciation towards the dignitaries and of course to SuperGroup for their fantastic decision to partner up.
With the local part of the preparation now complete, the South African ladies  fly to Holland where they will have a few training sessions and games before relocating to London for the 2018 Women's Hockey World Cup.
South Africa will take part in Group C facing off against Germany (World Ranking – 6th) on 21 July, Spain (11th) on 26 July and Argentina (3rd) on 28 July. Teams that finish first will progress straight to the quarterfinals, teams finishing 2nd or 3rd will move to the playoffs while the fourth-placed team will be eliminated.
South African Squad
Phumelela Mbande, Marlize van Tonder, Erin Hunter, Kara Botes, Simone Gouws, Nicole Walraven, Lisa Deetlefs, Shelley Jones, Kristen Paton, Quanita Bobbs, Nicolene Terblanche, Sulette Damons, Candice Manuel, Ongi Mali, Lilian du Plessis, Tarryn Glasby, Dirkie Chamberlain and Jade Mayne
Super Group, who provide a vast array of international supply chain and fleet management services and operate a vehicle dealer network in South Africa and the United Kingdom, announces its official partnership with one of our nation's premiere female sports teams, the South African Women's Hockey team, and is expanding its brand presence in the sports market, which is growing exponentially globally.
Hockey is one of the fastest growing schools sports in the country and has made significant progress in all areas including the announcement of this new sponsorship deal.  There has been  greater gender integration in the way SA Hockey hosts tournaments and events, increasing awareness through broadcast partnerships with SuperSport hosting world class events and attracting the worlds' best hockey teams to our local shores.
Super Group will be on board to assist the National Women's team prepare and compete at the Vitality Women's Hockey World Cup in London from the 28th July to 5th August where our team will look to improve on their 9th place finish at the Hague in 2014. The event is one of the largest Women's only sporting events that the UK has hosted to date.
Super Group's sponsorship will be well received by the public and the hockey community as the ever-needed funding is a critical component of the game of hockey. With hockey not being a professional sport in South Africa, the sustainability of the sport is reliant on such partnerships. The growth and participation of hockey around the globe is definitely a source of excitement for Super Group. 
Mr Peter Mountford, the Chief Executive Officer for Super Group explains the value proposition for the alignment as follows: "For Super Group, this sponsorship signifies an opportunity to give back to the South African sports public and support an excellent team whose high International Ranking is unique amongst Competitive Countries who are all full-time professionals."
"The partnership with Super Group speaks volumes to the character of Hockey in our country, in particular the Women's game. One of our goals is to drive positive change in Women's sport through the performance of the national team and having Super Group on board presents an excellent opportunity for this," says SA Hockey CEO Marissa Langeni, "We are thrilled to have Super Group on for the next part of this journey!"
The 14th edition of the Women's World Cup will be broadcast live on SuperSport while the fixtures are available on the SAHA website https://www.sahockey.co.za/
African women champions South Africa have announced their 18-player squad for the 2018 FIH Vitality Hockey Women's World Cup. Sheldon Rostron's squad, who qualified for the World Cup when they finished fifth at the FIH World League Semi-Final in Johannesburg in June 2017, features a blend of some superb youngsters coupled with experienced campaigners.
One of the notable names missing is Ilse Davids, who announced her retirement recently, while SA Player of the year for 2016, Celia Evans, misses out through a knee injury.
Shelley Jones and Dirkie Chamberlain will be key to South Africa's approach at the World Cup as they take part in their fourth World Cups. Dynamic duo Lisa-Marie Deetlefs and Sulette Damons will take part in their third, while Nicolene Terblanche returns for her second after featuring at the Hague in 2014.  Their collective experience will be key to a South African side featuring some incredible youngsters.
There is a return to the squad for Tarryn Glasby and Lilian du Plessis (Her second World Cup as well) who missed out on the Commonwealth Games, adding a much-needed threat in front of goal to the explosive talent of Candice Manuel. While the experienced trio of Erin Hunter, Nicole Walraven, and Kara Botes will be joined in defence by the exciting Simone Gouws, who was the Junior Player of the Tournament at the recently completed IPT.
Kristen Paton and Ongi Mali, often spoken of as the future of SA Hockey, will now be a very active part of the present. The team is completed by the Western Province duo Quanita Bobbs and Jade Mayne, who will look to continue their fine form in the green and gold when arriving in London.
South Africa will take part in Group C facing off against Germany (World Ranking – 6th) on 21 July, Spain (11th) on 26 July and Argentina (3rd) on 28 July. Teams that finish first will progress straight to the quarterfinals, teams finishing 2nd or 3rd will move to the playoffs while the fourth-placed team will be eliminated.
Sheldon Rostron, head coach of the South African women, is excited to work with the team: "The group that we have created has a good blend of experience and youth. We have looked at specific skill requirements as well as the players form over the past 12 months. Simone Gouws will add a different dynamic in our defence, which we feel is needed, while the return of Lilian will make us a more threatening attacking team. As much as this is a team for the FIH Hockey Women's World Cup, it is also a team to build for the future of SA Women's Hockey."
SA Hockey would like to thank Grays South Africa and Private Property for their continued support of SA Women's Hockey.
SA Women's Hockey Team for the 2018 Vitality Hockey Women's World Cup
| | | |
| --- | --- | --- |
|   | Name | Province |
| 1 | Phumelela Mbande | Northern Blues |
| 2 | Marlize van Tonder | Southern Gauteng |
| 3 | Erin Hunter | Southern Gauteng |
| 4 | Kara Botes | Southern Gauteng |
| 5 | Simone Gouws | Free State |
| 6 | Nicole Walraven | Free State |
| 7 | Lisa Deetlefs | Southern Gauteng |
| 8 | Shelley Jones | Kwazulu Natal Raiders |
| 9 | Kristen Paton | Southern Gauteng |
| 10 | Quanita Bobbs | Western Province |
| 11 | Nicolene Terblanche | Northern Blues |
| 12 | Sulette Damons | North West |
| 13 | Candice Manuel | Western Province |
| 14 | Ongi Mali | Eastern Province |
| 15 | Lilian du Plessis | Southern Gauteng |
| 16 | Tarryn Glasby | Western Province |
| 17 | Dirkie Chamberlain | North West |
| 18 | Jade Mayne | Western Province |
Photo: Sydney Mahlangu/BackpagePix
After 176 games for the South African Women's Hockey Team, the diminutive midfielder Illse Davids has decided to hang up her stick and call time on her international career. Having debuted back in 2007 at Kenya in the African Hockey Cup of Nations, the former Wynberg Girls High School student, was a constant on the team sheet under Jenny King, Giles Bonnet and later under Sheldon Rostron. Along her career, Illse Davids represented South Africa at two Commonwealth Games (2014 & 2018), the 2014 FIH Hockey World Cup and the 2012 London Olympics. Of course at that 2012 Olympic Games South Africa finished 10th, but an absolute highlight, both of that tournament and of Illse's career, was the 7-0 demolition of USA in the Pool B encounter. Another game that stood out for was a 4-0 win over Argentina in Bloemfontein in 2010, the first time South Africa had ever beaten Argentina. The decision to retire came on the back of the calf injury she incurred at the Commonwealth Games in the 1-1 draw against Malaysia, limiting her to just two appearances and ultimately made Illse decide to call it time on her International career.
National co-captain Sulette Damons will look back fondly on the career of Illse Davids: "She's a true role model on and off the field. Her infectious laugh put a smile on our faces at the toughest of times. Her passion for the game, her knowledge of the game and will to win are what I admire most about Illse. It's been a massive honour to learn from her and to play alongside her." Although Illse is still keen to play Provincial hockey, her passion for the game extends further as she is now the hockey manager as well as a coach at Hoër MeisiesSkool Bloemhof in Stellenbosch, currently ranked 14th in the country. So well we may miss Illse on the field, we are grateful that she will be helping breed the next crop of youngsters in Stellenbosch! Marissa Langeni, the CEO of South African Hockey Association, shared her thoughts on Illse's career: "Illse Davids will certainly be missed. She has been a central part of the national women's team over the last few years and has inspired many a young girl from all walks of life to achieve greatness. Illse's passion for the game and South African Hockey has always shone through. On behalf of the Executive Board of SA Hockey as well as the greater hockey family, I would like to thank Illse for her contribution to the national team. We wish her all of the best for the future and look forward to seeing her involved further in the sport that she loves." 
Photo: Manuel Queimadelos Alonso/Getty Images Europe
I asked Illse to share a message for the young women of South Africa that hope to one day emulate her. "Never give up on your dreams, I always believed that I would wear the green and gold. Whatever setbacks occurred on my journey, I learned from them and kept going until I achieved what I set out to accomplish!"
SA Hockey would like to thank Illse for the years of service and wish her all the best in her future endeavours.