The South African Hockey Association has today announced that Nkuliso "Inky" Zondi has been appointed as the Interim Head coach of the SA Womens Hockey team. The appointment sees Zondi take charge of the team for the upcoming African Cup of Nations in Ghana, in a bid to qualify for the FIH Hockey World Cup.
Zondi has been involved with the South African National programme for a number of years already having served as an assistant to Mark Hopkins with SA Hockey Men at the 2018 Commonwealth Games and the FIH Hockey World Cup in Bhubaneswar later that year. He had previously completed the same role at the 2016 Junior World Cup, before late being appointed as assistant coach in the womens set up with Robin van Ginkel and was part of the management team at Tokyo 2021.
Inky is the current Head Coach of the womens program at Tuks University, where the team has won 4 USSA tournaments in a row.
Speaking of the opportunity Zondi was incredibly proud:
"We have a lot to do, to achieve and to focus on. Whats important for me is to make the most of the situation we are in and the opportunity we have. I have had an incredible privilege of being involved in the national teams for the past couple of years. I am honoured to have this opportunity and I look forward to helping the team make the country proud!"
Zondi will be assisted by Lenise Marais, the current SA U21 Womens Head Coach, who will focus on her task once the Junior World Cup in Potchefstroom is hosted.
Listen to Inky's interview with Hockey the Podcast here
South African Women's Hockey Head Coach has stepped down from the role of head coach with immediate effect, citing personal reasons.
Robin van Ginkel was appointed to the role of head coach in 2019 following the completion of the FIH Hockey World Cup. Van Ginkel had previously served in various roles for South African Hockey including as Assistant coach to both the men and women at the 2017 African Cup of Nations in Egypt.
Van Ginkel had his debut in a three match series against Namibia at Randburg Astro, before taking his side to the FIH Hockey Series Final in Valencia.
The team would qualify for the Tokyo Olympics when they triumphed at the Africa Road to Tokyo event in Stellenbosch, but have to wait an additional 12 months to go after the covid pandemic caused a delay to the multisport event.
Van Ginkel ends his reign as head coach with 23 matches including the Tokyo Olympics.
SA Hockey CEO Marissa Langeni shared her thanks for the work of Robin van Ginkel:
"The South African Hockey Association would like to thank Robin for his commitment and tireless efforts as Head Coach of the National Womens Hockey Team. His dedication to national duty has been exemplary and we would like to wish him all the best for the future and all his endeavors!"  
An announcement on the next head coach will be made in due course.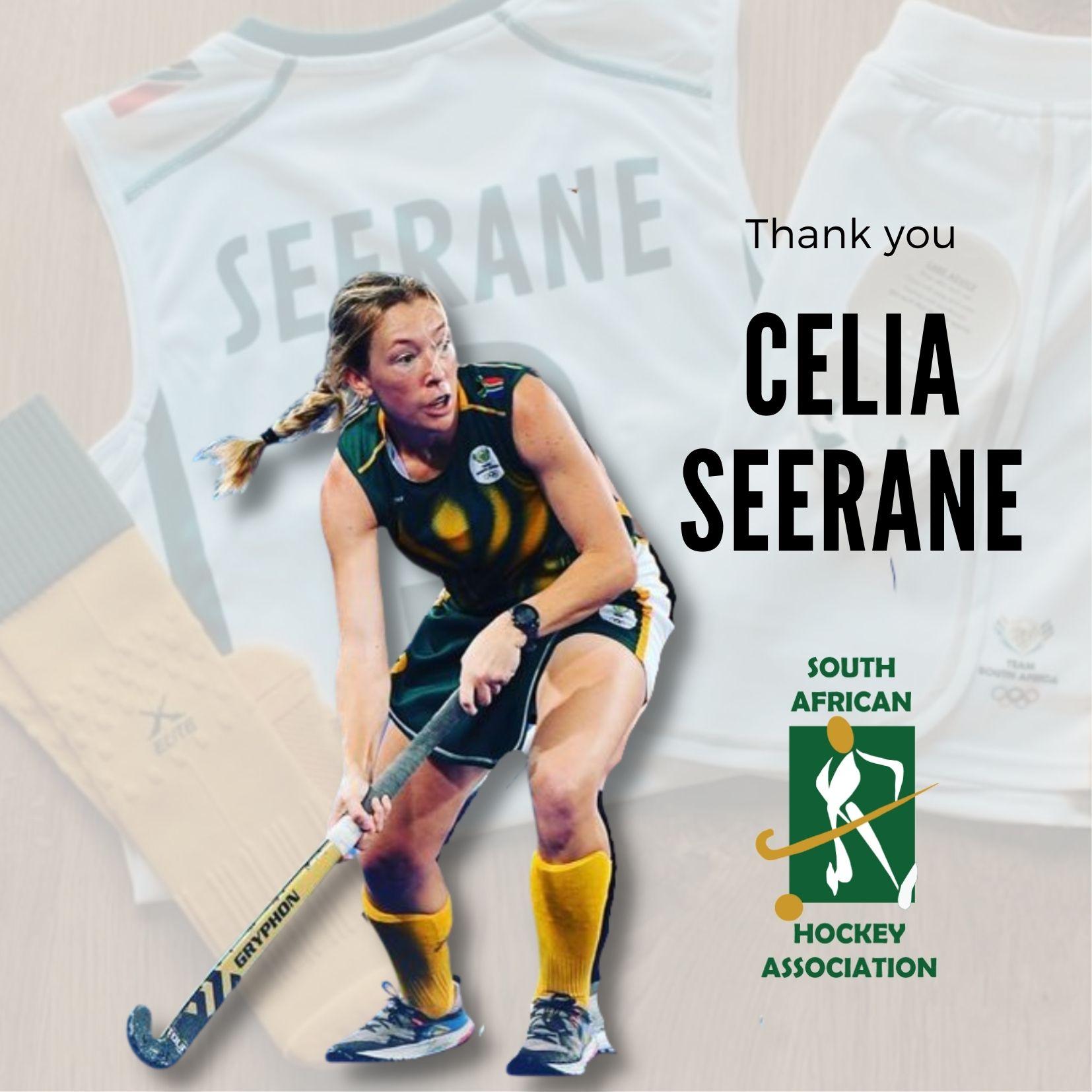 Celia Seerane, who has represented South Africa on 168 occasions in Outdoor Hockey, has today announced her retirement from the national outdoor game. Seerane who was part of the squad that took part in the Tokyo Olympic Games remains available for the indoor side, where she played 49 test matches. 
Celia, who's brother played for Bafana Bafana, made her debut for the country in 2010 just before the country hosted the FIFA World Cup. As a player who regular leads the team one bounce warm ups, this symbolic alignment couldnt be more appropriate. 
The Maritzburg High School alumni would feature for the country in all major tournaments, including the Tokyo Olympics, the 2014 Hockey World Cup and of course the Commonwealth Games. She was denied the opportunity of playing in the 2018 World Cup when she suffered a knee injury while starring at the IPT. 
Celia issued the following statement on her retirement:
"It has been an honour to represent my country. I have had amazing opportunities and I am so grateful for every single one of them. Thank you to all the coaches and SA Hockey for the tremendous support over the past decade! I look forward to supporting the team as they face the challenges in the future!"
SA Hockey CEO Marissa Langeni paid tribute to Celia
"Celia is a wonderful ambassador for our sport and importantly our country. Thank you for your dedication and the superb example you set for younsters in South Africa. We know you will always be near a hockey field, so we look forward to seeing you continue to develop future International stars!"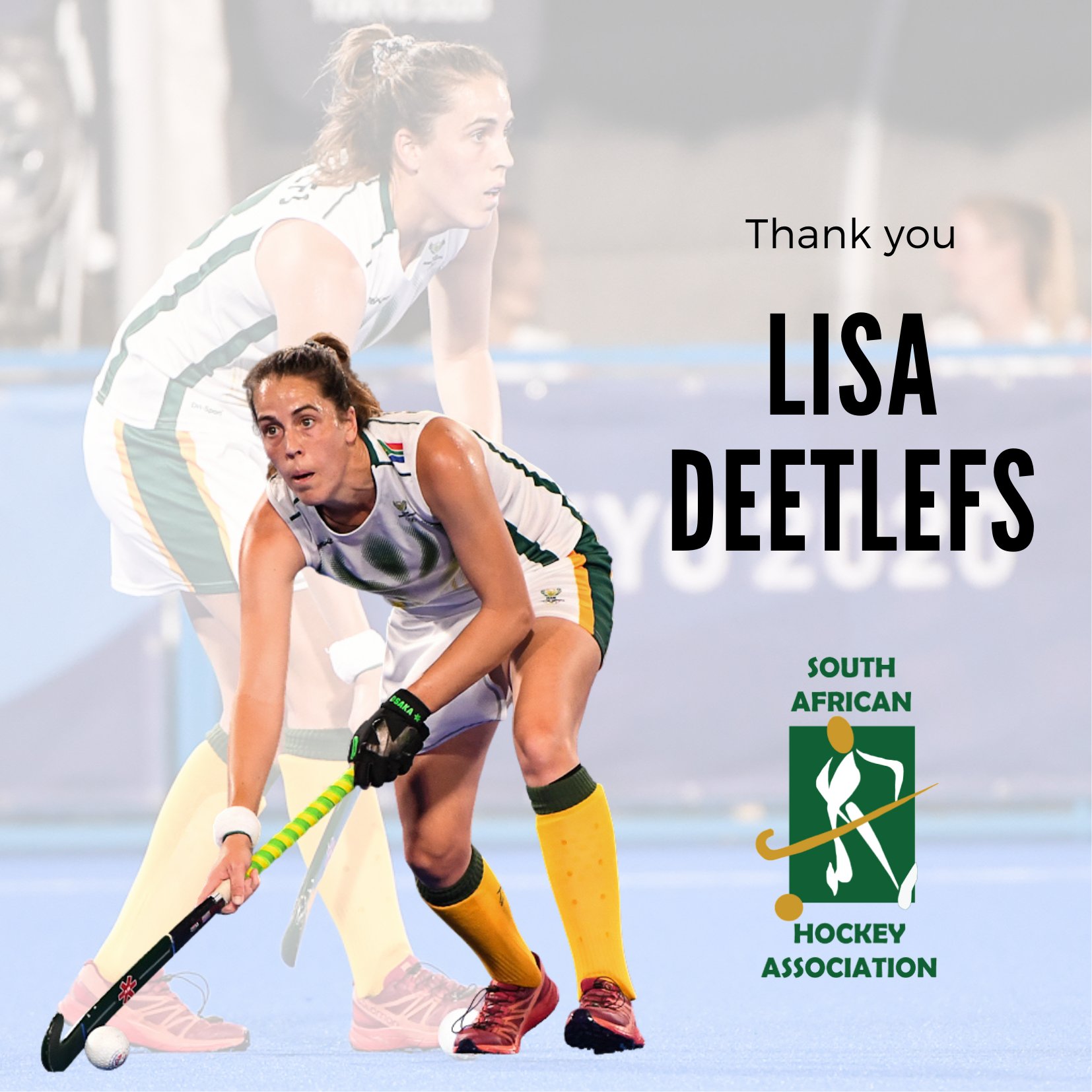 South Africa's current most capped player and triple Olympian Lisa-Marie Deetlefs has today announced her retirement from International Hockey. The superb defender, who earned 271 caps for South Africa, finishes her career as the fifth highest capped player in South African Women's hockey history.
Lisa made her debut for South Africa in 2007 against Canada at Stellenbosch and would represent the country at all major tournaments. The triple Olympian was part of the squad in 2008 at Beijing, 2012 in London and 2021 in Tokyo. She also played in three FIH World Cups and three Commonwealth Games.
Lisa was a proud ambassador for the game in South Africa and she consistently was the wall that many teams couldn't beat whether during club hockey, PHL where she was a star for the Madikwe Rangers or for Southern Gauteng in the IPT. Her ability to read the game and her danger at penalty corner time left a fantastic memory for fans all around the country.
In announcing her retirement, Lisa shared the following statement:
"I've been dreading this moment for the longest time … The moment when you realise that as much as you'd like to continue, you simply just can't. I've lived and breathed this beautiful sport on the international stage since 2007 and it's now time for me to start a different chapter…
I have been privileged and honoured to have worn the SA jersey on so many occasions and at so many events. Like every sports person says, there have been many highs and many lows - but even so - I wouldn't have changed one single thing! I can't begin to describe how much I grew, not only as a player but more so as a person and I will be forever grateful for that!
Thank you and I will miss you!"
SA Hockey CEO paid tribute to Lisa on the news of her retirement
"Lisa is not just a wonderful hockey player; she is a wonderful person. She has been a proud ambassador for our sport and our country throughout her career. Thank you for always putting our country first and inspiring so many youngsters to play the game. Lisa will leave a massive gap that will be tough to fill! Thank you for your efforts Lisa!"
Lisa grew up with Lindsey Wright (Carlisle) as her hero, with a goal of surpassing her total of 209 career caps. There is no doubt that Lisa has now inspired many young women to follow their hearts and dreams and strive to emulate her great career!
Lisa chatted to Hockey the Podcast about her retirement, you can listen to it here https://iono.fm/e/1090083 
India and South Africa served up a pulsating affair in a seven-goal thriller on Saturday morning at Oi Hockey Stadium in Tokyo. The Indians led three times only for the South Africans to peg them back, but eventually they got over the line in the final chukka.
South Africa and India met in the Women's event at the Tokyo Olympics with both teams fighting for a place in the final 8, but both cognisant that it could also be their last game in the tournament.
India came out firing winning an early penalty corner, but before the game even started three long referrals took the momentum out of the early exchanges. India was the first to refocus and took the lead after a goal mouth scramble was bundled home. India was exerting the most force, which is when a South African will be the most dangerous and Tarryn Glasby restored parity with the deftest of touches to sneak the ball home with the final touch of the quarter.
India again gained the lead in the second quarter with Katariya playing the perfect deflection past Mbande. South Africa kept their composure, endured pressure and created a superb opportunity for Charne Maddocks that was spurned. But the African champions continued fighting and managed to level just before half time with skipper Erin Hunter (Christie) finishing a penalty corner. 2-2 the score at the break.
In the third quarter it was the Indians that landed the first blow as Katariya once again deflected a penalty corner home. They also had two great opportunities to stretch the lead but both times they were denied expertly by vice-captain Phumelela Mbande. And they would rue those chances as Marizen Marais burst into the circle and despite some tight challenges pushed the ball low and hard past the Indian Keeper to level the score. South Africa were growing in belief, but the quarter end came a bit too soon and it was 3-3.
The final chukka started with South Africa dominating proceedings winning three early penalty corners, but they were all well defended by India and the deadlock remained. But that deadlock was broken with 10 minutes remaining as Katariya completed a hat-trick of deflections at penalty corner time to make it 4-3.
South Africa thought they had a late penalty corner, but a video referral denied the opportunity and India saw out the game superbly that leaves them waiting eagerly on the result in the Ireland game later today. For South Africa
A very early morning became just an early morning as the SA Womens Hockey team and Germans had to wait for the action to start after the Oi hockey Stadium was hit by a tremendous rain storm. Incredible work at the stadium meant that the game was able to get started, just after South Africans watching at home had been able to see Tatjana Schoenmaker win the Olympic Gold Medal first!
Once the game did get underway it was the Germans who started brilliantly and took just 80 seconds to take the lead. A drive into the D fell onto the stick of Lisa Altenburg who finished superbly off the left upright. Germany would add a second before the end of the first quarter with Sonja Zimmerman converting from the PC off the post. It could have been more but for a few timely interventions from Tarryn Mallet and Phumi Mbande.
Altenburg netted her second in the 24th minute with another superb finish into the top left corner giving Mbande no chance over her shoulder. The South Africans were resolute but it was a dominant first half from the European silver medallists who are looking to step up and take home the Olympic Gold medal.
South Africa showed a much improved second half, competing more in the middle of the park and holding out a goal-less third quarter. Celia Seerane was sensational in defence clearing twice off the line and reading play superbly. South Africa were also showing improved discipline which was making it hard for the Germans to break them down.
The Germans did manage to get a fourth when a speculative drive into the D managed to get the deftest touch from Schroder and guided it past Mbande in goals. It was a sucker punch for the African champions as they had been growing into the game as the time progressed.
There was however a beautiful moment for the South Africans to end with a glimmer. A beautiful build up from Kristen Paton saw her create a pocket of space which she exploited superbly. A quick interchange with Quanita Bobbs, the captain on the day, saw a fine cross which Toni Marks finished superbly. It was a moment of true quality for the South Africans that will give them a lift ahead of the game against India tomorrow.
The South African Hockey Women were looking to kick start their Tokyo campaign with a bounce back performance against Great Britain, the defending champions on Monday evening. The two teams started the game showing a united front in taking the knee as a statement of standing against racism.
The South Africans started the game the better and went ahead as they caught a sluggish Great Britain napping. Some quick thinking from Celia Seerane created space for a shot off a penalty corner and it was fired through to an unmarked Nicole Walraven, who on her 50th test cap, gave the African champions the lead.
It was a lead they would hold until the 29th minute when Elena Rayner levelled matters after a period of sustained pressure. That goal was the perfect tonic for the Olympic champions as they emerged after the half time break and proceeded to dominate the possession and circle penetrations.
They took the lead from a penalty corner variation, where Lily Owsley deflected a loop effort over Mbande and past Marizen Marias on the post. Having held the British out for 10 minutes in the third quarter before that goal, the Africans will be disappointed to have conceded so quickly after that. The goal made it 3-1 as Laura Unsworth rocketed the ball home for a cracking finish after a defensive error opened the opportunity for her.
South Africa were having to work incredibly hard to keep the British out with Mbande, Christie, Deetlefs and co having to repel a number of attacks and defend a number of penalty corners. They managed to get to the the end of the third quarter without conceding again, but the defending champions kept getting forward and were rewarded with a fourth as Elena Rayner blasted home leaving Mbande no chance.
The South Africans defended gainfully for the final 10 minutes and showed some good character, but they will be disappointed that they were unable to convert the performance of the opening half and in particular the opening quarter into points.
The SA Hockey Women are next in action against Netherlands, the Worlds top ranked side on Wednesday at 02:30.
Photo - Anton Geyser / SA Sports Images
The South African Hockey women opened their campaign with a tough match up against the 2018 FIH World Cup silver medallists Ireland. It would also be the South Africans official test match in two years after the COVID Pandemic hurt the programme badly.
The South Africans started the game by handing international debuts to Edith Molikoe, Charne Maddocks and Lerato Mahole.
South Africa had the clearest opening opportunity with Nicky Veto unable to convert after some great build up play and Ireland were able to convert from the first penalty corner of the game through a low drive from Roisin Upton. The Irish were creating a number of circle entries but were not generating outcomes with South Africa attempting to play the ball on the counter.
The defensive combination and Phumelela Mbande in goals were able to hold off the Irish, but there were so few opportunities being created by the South Africans. And at half time the score remained 1-0.
South Africa were able to create a few circle entries and managed to win a penalty corner, but were unable to convert and just after that Sarah Torrans completed a moment of real quality to divert the ball beyond Mbande and give the Irish the 2nd goal they were desperate for.
That second goal would be the final as neither team was able to create another meaningful opportunity and it was Ireland who got the tournament off to the perfect start.  For South Africa its back to the drawing board ahead of playing Great Britain on Monday.
Ahead of an action packed 12 months for the South African Women's indoor and outdoor hockey sides, Kara Botes has decided to call time on her International career both on the astro and on the indoor courts.
The current Southern Gauteng defender is one of only three players to have amassed more than 50 caps for both indoor hockey and outdoor hockey. Having been schooled at the brilliant Pietermartizburg Girls High, there was hardly doubt that she would make a star of herself on the international stage and started her journey of 79 Indoor Hockey Caps for SPAR South Africa against Namibia back in 2014 and managed to score her first goal in her fourth game. That ratio quickly swung and Botes retires as the second highest goal scorer in South African Indoor Hockey history with 85 scored in her 79 games. A remarkable achievement considering she is primarily a defender. At the 2018 Croatia Indoor Cup, Kara netted five in a then world record 21-0 victory over Slovenia.
Kara's Indoor Hockey captain, both for her time at the Raiders and with the national team, Cindy Hack was glowing in her praise of Botes:
"I have had the privilege of playing many years with Kara. She has an exceptional ability to read the game and her eye for the pinpoint pass was unrivalled on the court. She had such great tenacity and was always someone that was better to play with than against! Kara was also devastatingly dangerous at penalty corner time and a real weapon in our attack. Thank you for your service to our country and to our game! Good luck for the new endeavors, I have no doubt you will be an immense success!"
Her outdoor career was also a superb one after making her debut in 2016 against Argentina in Bloemfontein and going on to accumulate 53 test caps including playing at the Commonwealth Games on the Gold Coast and at the Vitality Hockey World Cup in London. In recent times it has been alongside Erin Christie that she has built a superb understanding at both club, provincial and national teams.
"Kara will be missed in the SA outdoor team. Her flair, deception and creativity are what made her a great player and asset to the team. As a teammate, Kara was always available to everyone and loved picking our brains about the most interesting topics. Although she will deny it, the EXTROVERT in her brought a lot of fun and laughter to us all. We wish Kara all the best and happiness on her next adventure and no doubt it'll be a successful one."
Marissa Langeni, the CEO of SA Hockey shared her thoughts as well:
"An  extraordinary talent whether playing indoor hockey or outdoor. Kara's utmost dedication to the green & gold was rewarded by a stellar career and we would like to take this opportunity to thank her for representing South Africa over the years."
As Kara leaves a massive gap on the hockey field, we know she will be smashing it in the business world with that same flair!
Article was originally publish on FIH.CH
Marsha Cox is an undisputed legend of South African hockey. Making her senior international debut in 2001 at the tender age of 18, Cox – or Marsha Marescia, as she was known before her marriage to renowned Dutch hockey coach Alexander Cox – went on to represent her country a staggering 347 times over a 14-year career, competing at the Athens 2004, Beijing 2008 and London 2012 Olympic Games, captaining her country both in Beijing and London.

As well as the Olympics, she also played in four World Cups, four Commonwealth Games competitions and is a multiple African continental champion. It was a remarkable journey for Cox, who grew up in Durban and experienced apartheid in her early years before going on to become a trailblazing and iconic figure in South African hockey, not to mention a truly world class player.

In the first of two interviews, Cox – who lives in the Netherlands with Alexander and their daughter, with baby number two set to arrive in September – reflects on her Olympic memories as a player, whilst also recalling the day she was left completely star-struck by meeting track icon Usain Bolt in the Olympic Village at Beijing 2008.
Hi Marsha, thank you for talking to us! Looking back on your international career, what moment would you say that you are most proud of, and why?

Marsha Cox: "I would probably say that one of my proudest moments would be my first Olympic Games. I think that would always be something special. You know, growing up in apartheid South Africa, and being part of pretty much the first generation of change as a teenager, being exposed to the Olympic Games at a time when for the first time we were possibly even allowed to dream of it, it was a seed that was planted. In 2004, when I was part of the Athens Olympic team for South Africa, that was huge honour and a huge achievement, and something that I had dreamt about, but never, as a teenager, thought that could ever become a reality. So, when it did, it definitely marked one of the most special moments in my playing career."

What is your best memory from competing at the Olympics, either on or off the field?

Marsha Cox: "It's a bit tough! I think the first on-field amazing memory would be at the 2004 Games in Athens, which was my first Olympic Games. We were having a really rough start to the tournament, and in the pool stages we came up against Germany, and we ended up winning that game 3-1. As the tournament continued, it only got tougher of course, but Germany went onto win the Olympic gold medal. Actually, we were the only team to take points off Germany at the Olympics in Athens, so that one will definitely stick in the memory bank.

"Off the field, there have been so many great memories. I think one I'll always treasure was at the Beijing [2008] Olympic Games, the moment that I met Usain Bolt just outside the Jamaica House in the Olympic Village. It was after he had broken the 200m world record. I remember being so star-struck, not knowing what to do! I didn't have my telephone with me, I didn't have anything. I just had my SA gear that I would need to travel back home to South Africa [wearing]. I asked him for his autograph, and as I had nothing, he signed his autograph on the leg of my tracksuit pants. So, I travelled back to South Africa in the tracksuit pants that had Usain Bolt's signature on them. That is definitely one [moment] that I will remember as well."

This month would have been the start of the Tokyo 2020 Olympic Games, which has now been delayed by one year due to the COVID-19 global health pandemic. As a triple Olympian who captained the team at both Beijing 2008 and London 2012, what did it mean to both you and your family to represent South Africa on the biggest sporting stage in the world?

Marsha Cox: "I can totally understand the disappointment, for some athletes, that it has been extended by a year. But, for others, it is a great opportunity, to have an extra year of training and preparation. Being a triple Olympian is something that is special, and something that I am extremely proud of. For my family of course, growing up in a completely different time, this is something I think will always be dear to my family, the fact that I participated in three Olympic Games. It's an amazing event, and I think participating and being one of those very unique athletes thereafter makes it something even more special. You truly understand how unique it is, to be an Olympian. I can only imagine the excitement and anxiety as we build up to Tokyo 2021, for some of the players. But for myself alone, being an Olympian is something that I am forever grateful for."

South Africa's teams, both women and men, will both be involved in Tokyo next year, something you must be delighted about. Do you have any words of advice for those younger members of the teams who will be attending their first Olympic Games?

Marsha Cox: "It's fantastic that South Africa will compete in Tokyo 2021, both the men and women's hockey teams. For all the youngsters going to their first Olympic Games, I think the only advice I can give you is to cherish every single minute of it. It is going to be over before you know it, but one thing to bear in mind is that everyone is there to compete, and everyone is there with the winning mind-set. So, go out there with that exact same mentality, that exact same conviction, and do your best. But most of all, enjoy every single moment of every single experience that you are exposed to at the Olympic Games."

The second part of our extensive interview with Marsha Cox will be published in the coming weeks.