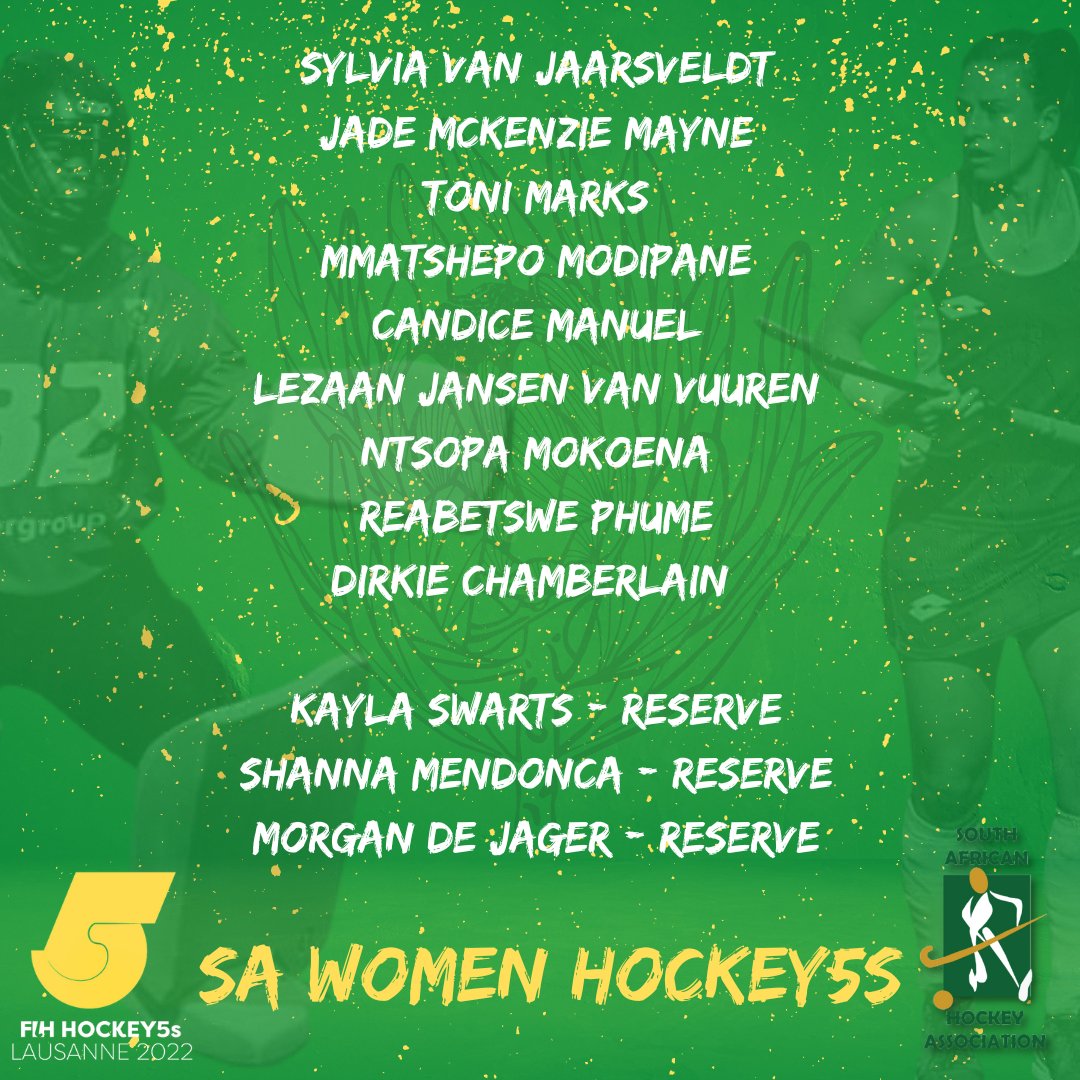 South Africa Hockey are pleased to announce the first ever SA Womens Hockey5s squad today. The team has been invited to compete at the inaugural senior Hockey5s event in Lausanne, Switzerland on the 4-5 June 2022. They will take on the hosts Switzerland, Poland, India and Uruguay. This will be the first step on the Road to the debut FIH Hockey5s World Cup in 2024.
South Africa have already made a splash in the shortened format when Tsoanelo Pholo led the SA Under 18 girls to the Youth Olympics in the format where they finished fourth in Argentina, just missing out on a medal, and defeating Australia in the process. Both the boys and girls won their respective African Cups in that year.
Pholo, who played both indoor and outdoor hockey for South Africa, will be the coach to lead the team in this Invitational event. And has put together a squad with the intention of contending for the title.
There are a number of experienced stars including Olympians Dirkie Chamberlain (London 2012) and Toni Marks (Tokyo 2021). There are also experienced 11-a-saide players in Candice Manuel, Jade Mayne, Sylvia van Jaarsveldt and 2021 IPT Goalkeeper of the Tournament Mmatshepo Modipane.
Lezaan Jansen van Vuuren is also joined by two of South Africa's exciting young stars in Ntsopa Mokoena and Reabetswe Phume.
SA Women Hockey5s Squad – FIH Hockey5s Lausanne 2022
Sylvia van Jaarsveldt
Jade Mckenzie Mayne
Toni Marks
Mmatshepo Modipane
Candice Manuel
Lezaan Jansen van Vuuren
Ntsopa Mokoena
Reabetswe Phume
Dirkie Chamberlain
Reserves
Kayla Swarts
Shanna Mendonca
Morgan de Jager
Staff
Tsoanelo Pholo
Tarrin Ramsden
Hockey5s is played with 5 athletes per team. It is particularly known for its non-stop end to end action, since the ball is in play for about 90% of a match, thanks to rebound-boards placed against the outside of the side-lines and back-lines. Furthermore, there are usually more goals with Hockey5s than with the more traditional 11-a-side format of hockey since players can score from anywhere after the attacking line. Hockey5s is played on a smaller pitch, which enables to bring hockey to people in new and unexpected venues, sometimes even at the heart of the cities. Also, the match duration is shorter, with 2 halves of 10 minutes each.
The matches will be live on Watch.Hockey.