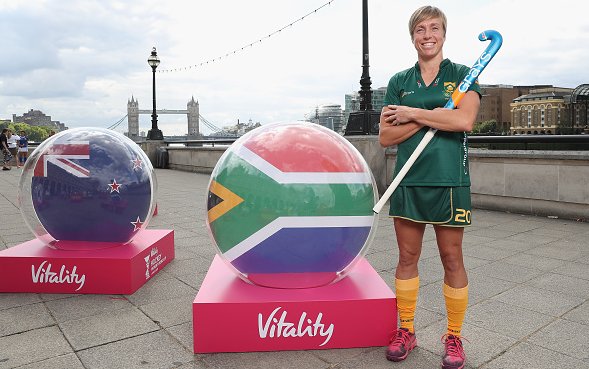 It's been four years since the curtains closed on the FIH Hockey Women's World Cup in Netherlands. South Africa left that tournament with a credible 9th place finish, the best since the 7th place finish in 1998. That team featured a host of experienced players that have subsequently hung up the boots including world record scorer Pietie Coetzee, the superb Marcelle Keet, shot stopper Sanani Mangisa and the likes of Kelly Reed, Kathleen Taylor, Tarryn Bright and of course inspirational skipper Marsha Cox. It was also the last tournament for outgoing coach Gilles Bonnet.
In the four years that have followed new head coach Sheldon Rostron has done a phenomenal job of balancing the budget, the resource limitations and building a new squad ready to take on the now expanded 16 team Hockey Women's World Cup. This will be South Africa's sixth appearance and the new format promises a tough challenge where early defeats raise the pressure immediately.
Eight of the 18 players in the squad have played more than 100 games for the National team including Shelley Jones on 273 and Lisa-Marie Deetlefs on 247. Alongside England-based striker Dirkie Chamberlain and the co-captains Sulette Damons and Nicolene Terblanche, this experienced core will be integral to South Africa's chances of progressing to the knock-out stages in a challenging group.
Here is the FIH look at Group C (Source - http://fih.ch/events/world-cup/world-cup-2018/hockey-world-cup-london-2018-w/news/latest-news/a-peek-at-the-pools/)
Rebuilt and bristling with ambition, Argentina (WR:3) arrive in London with high hopes of a medal. Standing in their way in this pool are three teams that all have the players to provide an upset. Adrian Lock's Spain (WR:11) have a talented and experienced team that is awash with speedy, aggressive players. Leading the team is Georgina Oliva, who has nearly 200 appearances and is Spain's creative hub.
South Africa (WR:14) is a team with a point to prove, having missed the 2016 Olympics due to a lack of support from its own National Olympic Committee. The team will be determined to establish themselves back at the top table at a major international and all the more dangerous for that ambition.
And Germany (WR:6) will always be a threat. The team has been on the up recently, with a bronze medal at the Rio 2016 Olympics and a glorious gold medal at the Indoor World Cup. Long-serving captain Janne Müller-Wieland and her team would love to be crowned double World Cup champions and they have the balance and experience in their squad to make that happen.
South Africa secured their spot at the World Cup with a fifth-place finish at the FIH World League Semi-Finals, only just falling short in a cracking quarter final with Germany that would have seen them qualify for the World League Finals! They further cemented their status as Africa's best when they romped to the African Cup title a few months later.
Sulette Damons – co-captain of the SA Hockey side shared her thoughts with me, "We've been working on a lot throughout our 4 weeks build up ahead of the Vitality Hockey Women's World Cup in London. It's been great to have the team together again since the commonwealth games. We are excited to get started this weekend, it's an exciting tournament for hockey as well as women in sport. It is always a privilege playing in the Green and Gold representing your country at a world stage, we are excited to test ourselves against the world's best!"
The waiting is now over and the ladies will be excited to get on the pitch. We will have all the action and reviews of the South African performance on SA Hockey throughout the tournament. In the month of Nelson Mandela's birthday in his centenary year we wish the girls well and end with this thought from Madiba.
"Sports have the power to change the world. It has the power to inspire, the power to unite people in a way that little else does. It speaks to youth in a language they understand. Sports can create hope, where there was once only despair. It is more powerful than governments in breaking down racial barriers. It laughs in the face of all types of discrimination. Sports is the game of lovers."