South African hockey has been blessed with some incredible players over the years. These players have broken world records, become household names and endeared themselves to the South African public. In our newest feature, The Breakaway, SA Hockey will be catching up with former national players and finding out what exactly they have been up to since calling an end to their careers. We couldn't think of a better player to start with than former captain Marsha Cox.
In 2015 South African legend Marsha Cox hung up her stick and retired from international hockey. From her debut in 2001 aged only 18 to her 330th cap in 2015, there was never a time that South Africa as a nation got anything other than world class service from our world superstar. Marsha's career encompassed three Olympic Games, three Hockey World Cups, and Four Commonwealth Games. Marsha was also recognised globally being nominated for the FIH World XI three times, in 2007, 2009 and 2010.
We had a little chat with Marsha around what's been keeping her busy since she decided to hang up her stick.
"Being a mum, work and being co-chair of the FIH Athletes committee as the athlete's rep on the FIH officials Committee and African Hockey Athletes Rep and board member keep me busy these days" shared Marsha. Marsha has served on the committee since she was elected in 2014 and was appointed as the co-chair in 2016, where she also sits on the officials committee and the responsibility does not end there: "I sometimes step in if Annie (Panter) cannot attend Board meetings and I am also the athlete's representative on the Hockey Pro League management panel"
Marsha has also been involved in work with the International Olympic Committee which started when Thomas Bach invited her to be part of an athlete's group with the launch of agenda 2020 way back in 2014: "Since then I was invited to the IOC athletes forum in 2015 and attended the IOC athletes forum again last year as the FIH representative. I am also a member of the IOC steering committee alongside Penny Heynes and the other representatives across the globe and across a number of sporting codes. The steering committee will be establishing an Athletes charter of rights."
Of course, the game of hockey is still incredibly close for Marsha as her husband Alexander coaches Kampong in the Hoofdklasse and last year won their first title for 32 years. "Being close to hockey, that's the massive advantage of the Dutch hockey culture of going to watch the Hoofdklasse every week and staying close to the game and players while supporting my husband's team!" They have also welcomed a child into their lives, which Marsha perfectly describes as "really exciting but busy at times"
I asked Marsha if there was one hockey memory that stood out for her in her career, "there are so many, to be honest, but one of my all-time favourites is our Olympic qualifier in India in 2012. Winning that tournament will never be forgotten but just the whole story about why we were there, how we go there and what we achieved under challenging conditions was just incredible."
Of course, Marsha has also been keen on giving back and recently was involved in an initiative with the Drakensberg Dragons kit collections and Greenwood primary school. "It's a kind of long story but was actually two initiatives that came together. One being the Dragon Drive on the back of the PHL and the other being my own initiative to revive and help elevate the hockey at my primary school in Durban, Greenwood Park Primary. Together with the help of Wayne Phillips (Riverside Hockey Club – the club of Marsha's youth before the merger) the two initiatives came together nicely and will helpfully grow with Riverside Hockey Club too!" You can read all about the handover of equipment here – http://sports24seven.co.za/sa-hockey-heroes-team-up-with-rhc-to-uplift-and-empower-kids-at-greenwood-park-primary/
As the topic of the Premier League came up as we discussed the Drakensburg Dragons Drive, I asked Marsha for her thoughts on the PHL and its role in South African hockey. "I think that it's great! I think it has the potential to grow into something similar to the AHL or the NZHL and it would be great to see grow to the point that the occasional international guest player could be involved. I would love to see it grow and get more backing from supporters and corporates."
Marsha herself participated in four Commonwealth Games and is quite excited about some of the young talents in the South African squad heading to the Gold Coast and singled out Kristen Paton and Ongi Mali for praise. "I think they both present a very promising future for the team. I also am looking forward to seeing some of the players who I played with that have grown immensely since I stopped like Candice Manuel!"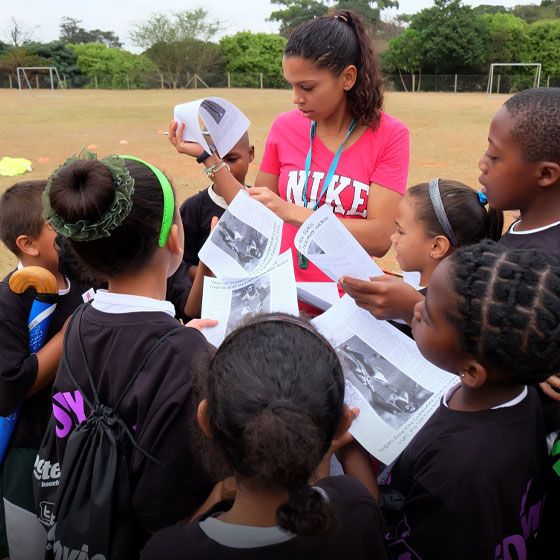 As our conversation headed towards its completion I had to ask Marsha what her plans for 2018 were, "2018 is an exciting year with the World Cup and our role as the athlete's committee to support the next AC elections. I will also continue to be involved with the IOC steering committee as well as all the other committees too! I hope to help support the first African athlete's committee election in 2018! Well in my personal life I'm looking forward to the summer with the husband and the little one while trying to keep fit as well (I run my first half-marathon this weekend!)"
One thing is for sure, Marsha was well known for giving her full go on the field and there is no stopping that effort or determination on the field! Thanks for taking the time to chat with us Marsha and good luck for the big year ahead!
The Breakaway is written for SA Hockey by Tyron "Jabu" Barnard (@TyronBarnard)