The South African Hockey Association have today announced Sihle Ntuli as the new head coach of the SA Under 21 Hockey Men, succeeding previous incumbent Neville Rothman, who has stepped down. The appointment will be for the period up to and including the 2021 FIH Junior Hockey World Cup.
Sihle is no stranger to the national set up in South Africa as he was the head coach of the SA U18's at the African Youth Games and is one of the assistant coaches of the current senior men's structure. In his time with the national team the men were victorious at the African Hockey Road to Tokyo as well as earning a silver medal at the FIH Hockey Series Final in Bhubaneswar. He was also previously the SA U16 Head Coach and has been one of the SA Indoor selectors for the past three years.
It was while he was at Kearsney College that he rose to prominence keeping the team in the top 10 of the school boy rankings and earning a crack with the KZN Raiders outdoor side. There he led the team to 5th and 3rd before a double success winning in 2017 and 2018. He also has the honour of leading the Drakensberg Dragons to three consecutive finals winning the SA Premier Hockey League in both 2018 and 2019.
This year saw him move to Pretoria where he has taken charge of the Tuks Mens First team. There are very few that doubt he will bring success with him to the role. When Rothmann stepped down, the decision was a unanimous one for the High-Performance committee of SA Hockey.
Speaking about the role, Sihle had the following to share:
"I am really excited by the squad that the previous coaching team has put together. The squad is filled with players that I worked with at the SA U16 level and being with them again feels like we have come full circle. I truly believe the players are not getting the rewards that their ability deserves and with that in mind a big focus for me and my team will be to raise the confidence into the next stage of our programme.
From a personal point of view, I would like to thank the South African Hockey Association for having the confidence in me to do the job. I am both honoured and humbled by this opportunity and I look forward to making the country proud!"
SA Hockey wishes Sihle success for his new role! 
Neville Rothman, Head Coach of the South African Under 21 side, has today announced the side selected to take part in the Mens Senior IPT. The Under 21 side has traditionally used the IPT as part of their process in building towards the next Junior World Cup.
The U21 Men are currently taking part in the Premier Hockey League in Randburg under the guise of the Golden Gate Gladiators. Some players have already taken the opportunity at the tournament to put their own names in lights, while all of them will hope to emulate Sam Mvimbi who earned his debut cap earlier this year.
Coach Neville Rothman shared his excitement about the team: "The only change from the CTM Premier Hockey League is that Bradley Sherwood returns and will add massive value from skills and leadership ability. Mpumelelo Maphumula is unavailable for selection as he will be playing football in the United States. This is another step on our process towards our ultimate goals of Junior World Cup in 2021."
The Senior Mens IPT takes place in Bloemfontein between 26 and 31 August in Bloemfontein.
SA Men's Under 21 Squad
Taine Bird (KZN Raiders)
Kyle Coker (Northern Blues)
Clayton Saker (Western Province)
Tevin Petersen (Western Province)
Michael Newland-Nell (Southern Gauteng)
Jacques v Tonder (Western Province)
Michael Horan (Southern Gauteng)
Guy Morgan (Northern Blues)
Matt Dewar (Northern Blues)
Sam Mvimbi (Northern Blues)
Jared Campbell (Northern Blues)
Luke Wynford (Western Province)
Tumi Ramphele (Southern Gauteng Witsies)
Simetu Bayanda (Western Province)
Idrees Abdulla (Western Province)
Peter Jarvis (Western Province)
Brad Sherwood (Northern Blues)
Angelo Walstroom (KZN Raiders) 
The South African Hockey Association have today announced Neville Rothman as the new head coach of the SA Under 21 Hockey Men, succeeding previous incumbent and now national coach, Garreth Ewing. The appointment will be for the period up to an including the 2021 FIH Junior Hockey World Cup.
Rothman is no stranger to the SA U21 setup having fulfilled the role of Assistant coach to Garreth Ewing in the previous years. Adding to his involvement in the school's setup having been the head coach of the SA U18 side for the home series against Australia in 2014 and 2016, the latter a 3-0 series win for the hosts.
Rothman also took the U18 team to the Nanjing Youth Olympic games in 2014. That team playing Hockey 5s, featured a host of players who are currently with the men's side in India including Bili Ntuli, Tyson Dlungwana and Tevin Kok. As the convenor of selectors for the SA Under 18 Boys, Rothman has knowledge of a host of talent that will undoubtedly be the future of South African Men's Hockey,
"Having been involved at various age group structures, I am incredibly humbled to be given the opportunity to take the SA Under 21 Men to the Junior Hockey World Cup. There is so much young talent in this country that makes me incredibly excited for this role." Shared Neville Rothman
Rothman is also a full-time hockey man as he is the director of hockey at Affies in Pretoria having made the move after 11 years at Paarl Roos Gymnasium. He also previously worked with Grey High School in Port Elizabeth.
The team will partake in the Premier Hockey League and the Senior IPT with the idea of developing the squad towards the African Qualifiers in 2020. Should the team be successful they will then head to the FIH Junior Hockey World Cup in 2021.
There will also be an expectation that the development of this players is important to guide them through this phase of their careers and assist them in making the step up to Senior International hockey.
SA Hockey wishes Neville success for his new role! 
NOTE: Applicants are to note that this is a volunteer position
Applications to be submitted to This email address is being protected from spambots. You need JavaScript enabled to view it. and applicants to indicate which position they are applying for
Application Submission Deadline – 18 March 2019
The application form MUST accompany all CV's and can be downloaded here
The South African Hockey Association are calling on applications for the role of selectors for both our U21 National Men and Womens Selection Panels. 
Each applicant must complete the application form below and submit a short CV.  Your Application and CV must be submitted to This email address is being protected from spambots. You need JavaScript enabled to view it.
Closing date for applications: 16 March 2019
The teenager Dayaan Cassiem has established himself as one of the most exciting youngsters in world hockey. Photo: Jan Kruger/Getty Images for FIH
The South African Hockey Association announces the South African under 21 Invitational Mens Squad to take part in this year's Senior Men's IPT in Pietermaritzburg at the beginning of August. This represents the next phase of the squad's development towards the next FIH Junior Hockey World Cup. In September 2017 a 34 man greater squad was announced and a host of these players were selected to represent the iWyze Golden Gate Gladiators at the 2017 Premier Hockey League, with the balance of the players being drafted into the other five PHL teams.
On the back of this, the U21 IPT and the recently completed Varsity Sports tournament, coach Garreth Ewing is excited about the pick of players he has at his disposal. "I am looking forward to working with this new U21 team at IPT. This is the latest phase in our selection process, taking into account performances at U21 IPT as well as PHL and the Varsity Sports Hockey. Playing against "men" is always a challenge for the youngsters but it gives us a great idea of who can compete at Junior World Cup level."
Dayaan Cassiem and Andrew Hobson have senior national experience that will be vital in the young team. While Samkelo Mvimbi and Che February will both be looking to find the back of the net and bring goals similar to the belters they scored at Varsity Sports to IPT. Mark Chong was the player of the final when Tuks upset Maties at the same tournament and will be of paramount importance to the SA U21 Invitational Squad in Martizburg. It's an exciting team that promises to play a high-intensity level of hockey and don't be surprised if they snatch results in the final quarter, a hallmark of the SA U21 sides over the past few years!
South African U21 Invitation Squad
 
Name
Province
1
Duncan Fischer
Southern Gauteng
2
William Eveleigh
Western Province
3
Andrew Hobson
Western Province
4
Jarred Cass
Northern Blues
5
Clayton Saker
Western Province
6
Andile Ndlovu
Southern Gauteng
7
Matthew Davies
Northern Blues
8
Samkelo Mvimbi
Northern Blues
9
Chris Makaba
Southern Gauteng
10
Mark Chong
Northern Blues
11
Che February
Southern Gauteng
12
Spencer Botes
Southern Gauteng
13
Max Pike
Western Province
14
Matthew Roman
Western Province
15
Brad Sherwood
Northern Blues
16
Michael Forrest
Northern Blues
17
Lungani Gabela
Kwazulu Natal Raiders
18
Dayaan Cassiem
Western Province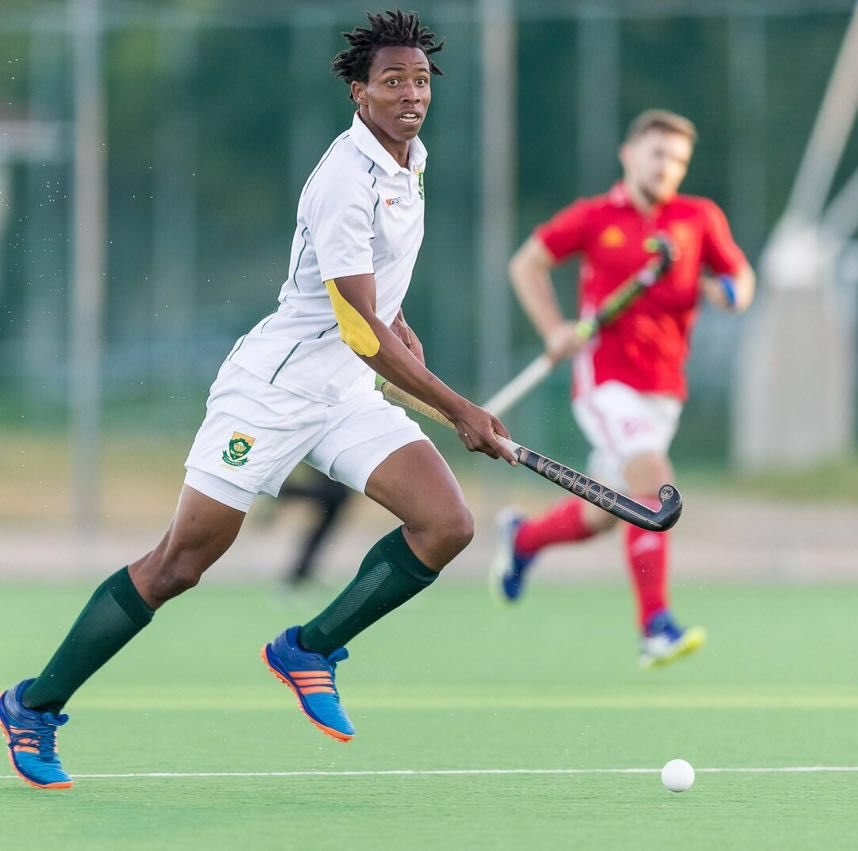 Today we announce the South Africa under 21 Squads. Following the completion of the successful Under 21 IPT held in Potchefstroom, which was won by the Southern Gauteng Ladies and the Western Province Men.
The selected players will be gathered for selection and training camps, with an eye on both the Africa qualifying tournament for the Junior World Cup and of course the Premier Hockey League (PHL), which takes place in November this year. The Ladies selectors shared that they have selected players born between 1998 & 2000 as well as a few more experienced players with a keen eye on the importance of the PHL.
The Men's under 21 Squad, which Garreth Ewing has been reappointed to coach after a successful Junior World Cup, features full Internationals Tyson Dlungwana, Rusten Abrahams and Dayaan Cassiem along with some of the most exciting talent ever seen in the country.
In the Ladies under 21 Squad under coach Rob van Ginkel there are a few players who played at the Junior Hockey World Cup last year included in the team, including the likes of Sandiswa Tabata, Kristen Paton, Ongi Mali and Sisipho Magwaza. While Cheree Greyvenstein, Kirsty Adams and Simone Gouws all got experience playing in the PHL last year.
South African U21 Ladies Squad

 

South African U21 Men's Squad

 

Name

Province

 

 

Name

Province

1

Mishka Ellis

Boland

 

1

Muzzamil Sheik

Eastern Province

2

Moya Smith

Boland

 

2

William Eveleigh

Boland

3

Sisipho Magwaza

Southern Gauteng

 

3

Duncan Fischer

Southern Gauteng

4

Marine Kock

North West

 

4

Tim Kirkman

KZN Raiders

5

Cheree Greyvenstein

KZN Raiders

 

5

Chris Rhode

Western Province

6

Thati Segaole

Northern Blues

 

6

Andrew Hobson

Western Province

7

Sare Laubsher

Free State

 

7

Tyson Dlungwana

Southern Gauteng

8

Edith Molikoe

Eastern Province

 

8

Courtney Halle

Southern Gauteng

9

Ongeziwe Mali

Eastern Province

 

9

Jared Cass

KZN Raiders

10

Kirsty Adams

Boland

 

10

Jacki Mohlaba

Western Province

11

Bianca Wood

Border

 

11

Dillon Langeveld

Eastern Province

12

Sonika Elizabeth van Heerden

Free State

 

12

Franco Carstens

Western Province

13

Julia Flemming

Southern Gauteng

 

13

Andile Ndlovu

KZN Inlands

14

Simoné Gouws

Free State

 

14

Rusten Abrahams

Southern Gauteng

15

Monique Baartsch

Boland

 

15

Sam Mvimbi

South West District

16

Daniela Rhodes

KZN Inlands

 

16

Connor Beauchamp

Western Province

17

Mia Barnard

Free State

 

17

Chris Makaba

Southern Gauteng

18

Mmamoagi Kungoana

Southern Gauteng

 

18

Ross Campbell

Western Province

19

Francisca Darkoh

Border

 

19

Mark Chong

Northern Blues

20

Hannah Pearce

Southern Gauteng

 

20

Matthew Roman

Western Province

21

Sandisiwe Tabata

Western Province

 

21

Dayaan Cassiem

Western Province

22

Jamie Southgate

Western Province

 

22

Luke Schooling

Western Province

23

Teegan Fourie

KZN Raiders

 

23

Che February

Southern Gauteng

24

Casey-Jean Botha

Free State

 

24

Spencer Botes

Southern Gauteng

25

Courtney Du Preez

North West

 

25

Laython Coombs

Eastern Province

26

Charne Maddocks

North West

 

26

Max Pike

Western Province

27

Thando Chiti

Northern Blues

 

27

Matthew Davies

Northern Blues

28

Minke van Heerden

Western Province

 

28

Jesse Martin

Southern Gauteng

29

Stephanie Botha

Western Province

 

29

Brad Sherwood

KZN Inlands

30

Francious Caarstens

Western Province

 

30

Michael Forrest

Northern Blues

31

Lezan Jacobs

Free State

 

31

Ross Vides

Eastern Province

32

Kelsey Minaar

Eastern Province

 

32

Winray Christoffels

Free State

33

Lezaan Janse van Vuuren

Southern Gauteng

 

33

Lungani Gabela

KZN Raiders

34

Meeghan Klomp

North West

 

34

Mbuso Mgobozi

Western Province

35

Pollert Mashua

Western Province

 
 
 
 

36

Nomnikelo Veto

Southern Gauteng

 
 
 
 

37

Lida Kotze

Western Province

 
 
 
 

38

Shindré-Lee Simmons

Free State

 
 
 
 

39

Miché Bennett

Western Province

 
 
 
 

40

Ashleigh Datnow

Southern Gauteng

 
 
 
 

41

Kristen Paton

Southern Gauteng

 
 
 
 

42

Nthabi Maine

Southern Gauteng

 
 
 
 
SA U21 men's hockey team for Junior World Cup in Lucknow, India from December 8 to 18
The South African Hockey Association has released the names of the players who will represent the South Africa U21 national men's team at FIH Junior World Cup 2016 from December 8 to 18 in Lucknow, India.
SA U21 men's head coach Garreth Ewing said that the announcement of the 18-player team is the culmination of a process that started at the Interprovincial Nationals U21 tournament at Greenfields AB Jackson Hockey Arena in Pietermaritzburg last April.
"It's been a thorough process and there was a lot of competition for final places but now for those 18 selected players, this is when the hard work really starts.
"The players will also be participating in the upcoming Premier  National League, which takes place in September this year."
Ewing said that he is happy with the balance in the team in terms of specialist skills and overall ability.
"I'm reasonably pleased that this group have had good exposure during the selection phase at both the senior SA Interprovincial Nationals tournament as well as the Junior World Cup Africa Qualifier Tournament that took place earlier this year.
"I'm looking forward to the next phase of preparation and rising to the challenge of raising the necessary funds for the JWC tournament."
SA U21 Junior World Cup men's team
      1.  Robert McKinley WP
2. Siya Nolutshungu KZN
3. Kyle Lion-Cachet SG
4. Courtney Hallé SG
5. Jayson Reed KZN
6. Tylo Remke KZN
7. Ryan Julius WP
8. Matthew De Sousa WP
9. Charles Bowren WP
10. Alex Stewart WP
11. Nduduzo Lembethe NG
12. Tyson Dlungwana SG
13. Khumo Mokale  NG
14. Ryan Crowe SG
15. Nqobile Ntuli KZN
16. Walter Pfaff WP
17. Tevin Kok NG
18. Amkelwe Letuka SG
Reserves:
            19. Steve McManus KZN
            20. Bjorn Sorensen WP
South Africa and Egypt men and South and Zimbabwe women qualify for Junior World Cups
While the best senior teams in the world are preparing for the Rio 2016 Olympic Games, the next generation of hockey stars will have their own moment in the spotlight at the end of the year when the Hockey Junior World Cups get under way.
Over the past few months a number of continental qualifiers have taken place which have decided who will compete at these Junior World Cups, the women's hosted in Santiago, Chile from 24 November to 4 December and the men's in India from 1-11 December. With several coveted places still to be won, the attention turned to Africa over the past few days, before the focus shifts on to the Pan-American region this week.
On the African continent, the men's and women's Junior African Cup was held in Windhoek in Namibia between 18-28 March.
In the men's event, Egypt demonstrated once again why they are a nation that is on the rise when it comes to hockey. The north African side reversed an earlier 2-0 loss at the hands of South Africa in the pool matches to win 3-2 in am exciting final.
In that game, the Egyptian team rushed into a 2-0 lead with goals from Mohamed Ali and Ahmed Arafa in the 14th and 22nd minute. South Africa fought back with a goal from Nqobile Ntuli just after half time.
It was all South Africa for the next quarter and Ntuli struck again to even the scores. However, with five minutes left on the clock, Egypt once again seized the initiative and Mohamed Nasr was on hand to shoot home the winner from open play, giving Egypt their first gold medal in this event.
Zimbabwe beat Namibia 5-3 in the bronze medal match while South Africa's Ntuli and Egypt's Ahmed Elganaini were top scorers with 14 goals a piece.
The women's Junior African Cup was a clear-cut victory for South Africa. They beat Namibia, Zimbabwe and Tanzania in a round-robin format to emerge as the gold medal winners. Zimbabwe finished in second place to take the only other automatic qualification spot for the Junior World Cup in Chile.
South Africa's Marie Louw was top scorer with 14 goals, closely followed by Tarryn Glasby on 13. In all, the South Africa team scored 63 goals and conceded none.
Who will be representing the Pan American region will be decided through two events: the women's event gets under way on Thursday 31 March in Trinidad and Tobago, while between May 20-28 the men are off to Toronto in Canada.
Eleven women's teams will be competing at this year's Junior Pan-Am Championship and with the Rio Olympics taking place on the continent just a few months later, there is bound to be increased interest in this event, especially with Hockey Junior World Cup places at stake.
The Junior Pan-Am Championships started in 1988 for the women and in that time, it has been an almost total Argentinian domination. The South American side has been beaten only once, by the USA in 2008.
Going into this year's event, Argentina women will hope to continue winning ways. Their coach, Agustin Corradini said: "The young players who are selected at junior international level are already well on their way to being the 'finished' article. When they get selected for the national team, they have already been part of very good development programmes within their own clubs. We make sure that they have all the elements in place and then work with those qualities to make them even better – as a result our players have very good technical skills, they are perfectly physically trained, and they have a professional mindset."
Canada's coach is Steph Andrews and she makes no bones about Argentina's ability. "Argentina, historically, have always been classy. Their ability to be creative and play with flair makes it hard for teams to match up against them and stop their flow. Any team that is going to beat Argentina will need to be good defensively and take their opportunities when it counts."
However, Andrews also believes that Canada is catching up on their South American rivals at junior level. She pinpoints developing depth within the junior squad as being key to this. She said: "I believe we are establishing a good group under our senior team both at a junior national squad level and the development squads below that, all of which will aid in closing the gap between us and Argentina."
The opening day's matches of the women's Junior Pan-Am Championship will see the reigning champions Argentina open their defence against Uruguay. Chile take on Barbados, Canada face Mexico and the 2008 winners USA will compete against the host nation Trinidad and Tobago.