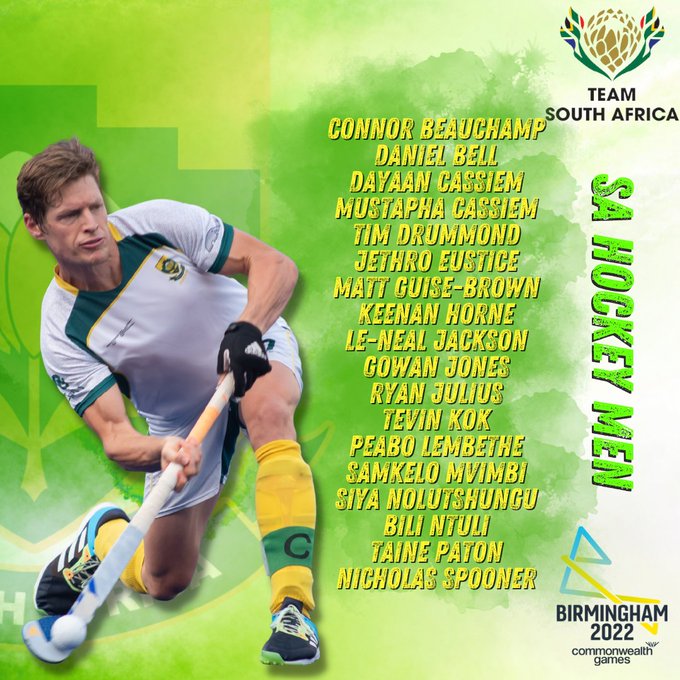 In just under 30 days the South African Hockey Men will head to Commonwealth Games in Birmingham. South Africa join Australia, Canada, England and New Zealand as the ever-present sides competing in their 7th tournament.
The South Africans finished 4th in Manchester in 2002 and are desperate to progress to the medal games for just the second time this year. The SA Men captured the hearts of the hockey world in the most recent multi-sport event, the Tokyo Olympics, when they defeated Germany to cause the result of the tournament. They will be looking for more of the same.
Throughout their challenge at the FIH Pro League the SA Men were unable to select a consistent line up, but this time round all the big names are in the squad. Dayaan Cassiem who was runner-up for Goal of the year with his solo strike against Belgium in Tokyo, along with FIH Rising Star nominee Mustapha Cassiem are joined up front by club teammate and fellow Olympian Tevin Kok, making a welcome return to the fold.
The captaincy will be with the experienced Tim Drummond, who will play in his fourth Commonwealth Games, and is joined by fellow centurions Taine Paton and Jethro Eustice brining important experience to the fold. Several players will play in their second Commonwealth Games including vice captains Keenan Horne & Bili Ntuli, Gowan Jones, Siya Nolutshungu and Dan Bell amongst others.
The South Africans open their campaign against Pakistan before taking on Scotland. They finish the group with the Trans-Tasman rivals Australia and New Zealand. The top two teams in the group will play in the medal matches.
 South Africa Squad for Commonwealth Games (Caps as of 30 June 2022)
| | | | |
| --- | --- | --- | --- |
| Player | Caps | Player | Caps |
| Connor Beauchamp | 13 | Gowan Jones | 64 |
| Daniel Bell | 77 | Ryan Julius | 50 |
| Matt Guise-Brown | 48 | Tevin Kok | 40 |
| Dayaan Cassiem | 52 | Peabo Lembethe | 52 |
| Mustapha Cassiem | 24 | Samkelo Mvimbi | 27 |
| Tim Drummond | 156 | Siya Nolutshungu | 42 |
| Jethro Eustice | 153 | Bili Ntuli | 79 |
| Keenan Horne | 88 | Taine Paton | 137 |
| Le-Neal Jackson | 26 | Nicholas Spooner | 45 |
 Reserves
Sihle Ngubane & Matt de Sousa
South Africa fixtures for Commonwealth Games
30 July 2022 – South Africa vs. Pakistan
1 August 2022 – South Africa vs. Scotland
3 August 2022 – South Africa vs. Australia
4 August 2022 – South Africa vs. New Zealand