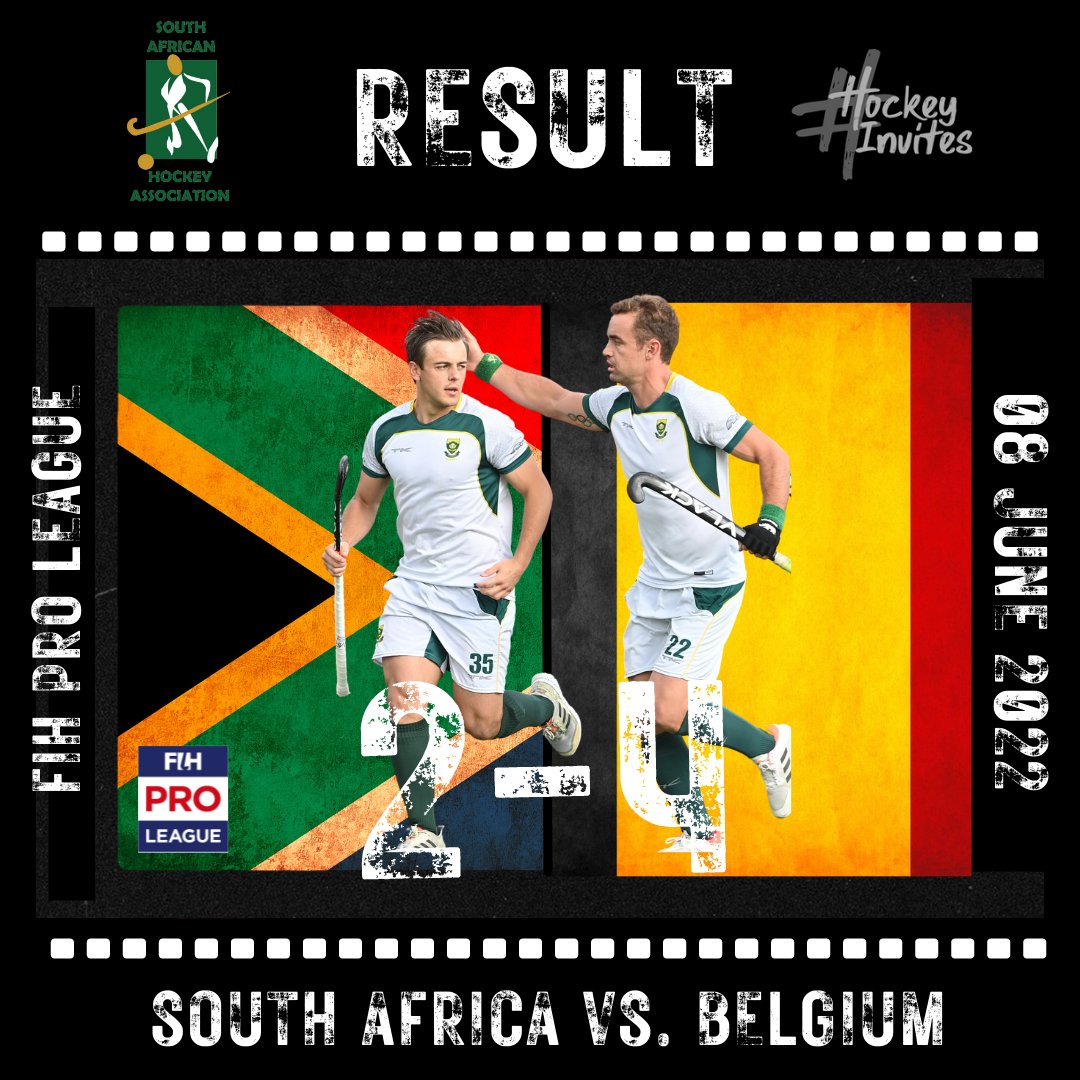 South Africa concluded their FIH Pro League tournament against Olympic Champions Belgium. The SA Men knew they would have a massive challenge ahead of them as the Belgians had won the previous four encounters with a combined 28-6 score line including the 5-0 victory yesterday.
The game started off sensationally with South Africa winning an early penalty corner following some good work by the returning Dayaan Cassiem. The penalty corner itself was nothing short of perfection as Connor Beauchamp  rifled the ball into the roof of the net. It was a rocket of a penalty corner and gave the African Champions a massive lift.
Belgium would level but it would take a remarkable team goal of quick incisive play to create the goal finished off coolly by Nelson Onana. South Africa though continued to trouble the Belgians and were a good value opposition with Mustapha Cassiem enjoying making a nuisance of himself.
The second quarter continued to follow the pattern of the first with both sides having opportunities and the South Africans looking very dangerous on the counter as the likes of Bili Ntuli, Dayaan Cassiem and Keenan Horne combined fluidly throughout. But the half reached its conclusion with a probably fair score line of 1-1.
Early in the third quarter South Africa had a big chance through skipper Keenan Horne. The Striker was afforded space, but his tomahawk shot flew narrowly over the bar. The Belgians would take that lifeline and in 5 intense minutes push the pressure home.
Florent van Aubel took advantage of a lapse in concentration in the South African defence to leap onto the ball and finish into the back of the net. Tom Boon then followed suite by robbing the ball from Tyson Dlungwana and finishing with incredible pace and added his second from a penalty corner. 4-1 at the end of the third quarter.
South Africa continued to trouble the Belgians and ask questions which led to a reward for the team. Another penalty corner was awarded and the South Africans once again turned to Connor Beauchamp who took the opportunity like a season professional. It was a consolation, but it was a massively deserving one for a superb performance.
For the South Africans all eyes now turn to the Commonwealth Games in 50 days where they will be looking to emulate or improve on their performances from previous tournaments, while applying the lessons taught throughout an incredible FIH Pro League experience.
Just watched @SA_Hockey going down 4-2 to Olympic and World champions Belgium. A fabulous performance in which we looked competitive and equally skilled throughout. Clearly transformation
Is bearing fruit. We are so close to the very top. Let's get there.

— John Robbie (@John_C_Robbie) June 8, 2022