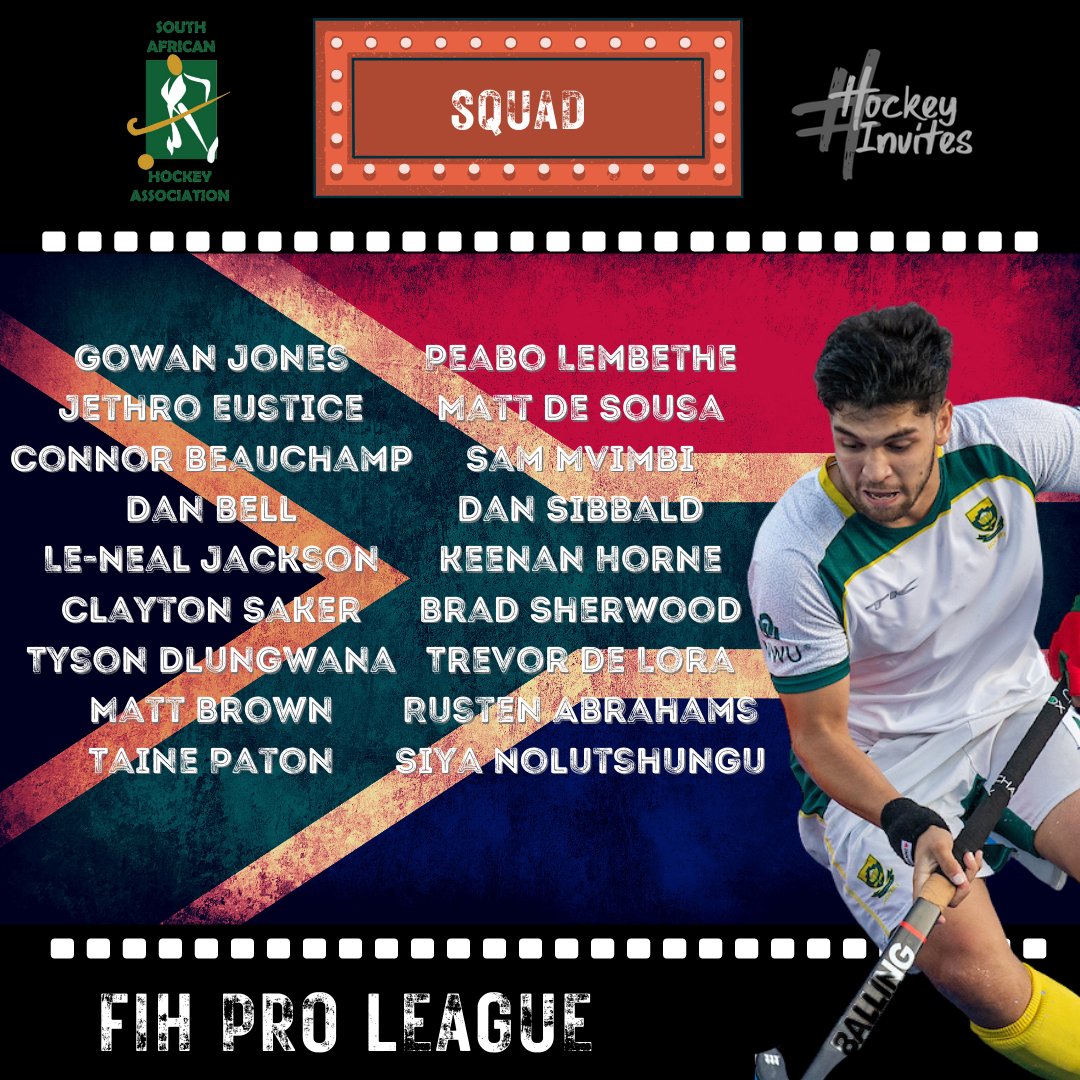 South Africa's one year invitation to the FIH Pro League will conclude with six matches in European Leg as Garreth Ewing's team meet England, Spain and Belgium. The team earned their first point of the tournament in Argentina, when they were unlucky to lose on a penalty shootout in the second test.
The South Africans are once again forced to make several changes from the team that tested Argentina superbly due to availability challenges once again. Skipper Tim Drummond misses out due to club commitments along with vice-captain Bili Ntuli and Nic Spooner.
Double Olympian Taine Paton returns having missed the trip to Argentina while Trevor de Lora will have the opportunity to add to his debut caps earned in Buenos Aires. There are also recalls for Gowan Jones, Tyson Dlugnwana and Matt Brown who featured in the Potchefstroom leg of the tournament.
For South Africa the FIH Pro League has been a steep learning curve and one that has reminded the team of the gap that exists to the top of the FIH Hockey World. However, its been a classroom with wonderful positives and great growth as the men look towards the Commonwealth Games, FIH Nations Cup and the FIH Hockey World Cup. All in the next 8 months.
Head Coach Garreth Ewing, who missed the Argentina leg with illness, is excited for the tough challenge that lies ahead:
"I'm looking forward to re-joining the team on another challenging round of Pro League. We are growing every day with the opportunity we have earned to compete at this level and I know that the players will be gaining even more experience in the six tough matches on this trip."
FIH Pro League – SA Men's Squad – European Leg
| | | | |
| --- | --- | --- | --- |
| Player | Caps | Player | Caps |
| Gowan Jones | 58 | Peabo Lembethe | 52 |
| Jethro Eustice | 147 | Matt de Sousa | 23 |
| Connor Beauchamp | 8 | Sam Mvimbi | 29 |
| Dan Bell | 71 | Dan Sibbald | 44 |
| Le-Neal Jackson | 20 | Keenan Horne | 82 |
| Clayton Saker | 7 | Brad Sherwood | 10 |
| Tyson Dlungwana | 60 | Trevor de Lora | 2 |
| Matt Brown | 16 | Rusten Abrahams | 13 |
| Taine Paton | 131 | Siya Nolutshungu | 36 |
FIH Pro League – SA Men's Fixtures– European Leg – SA Time – All fixtures live on Supersport
29 May 2022 – England vs. South Africa – 13:00 – London
29 May 2022 – England vs. South Africa – 13:00 – London
4 June 2022 – Spain vs. South Africa – 19:00 – Terrassa
5 June 2022 – Spain vs. South Africa – 19:00 – Terrassa
7 June 2022 – Belgium vs. South Africa – 18:00 – Antwerp
8 June 2022 – Belgium vs. South Africa – 18:00 - Antwerp