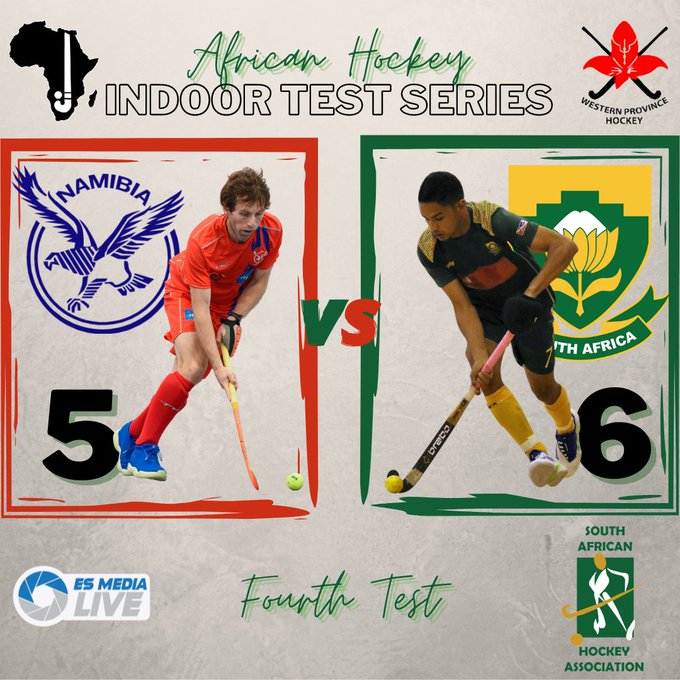 Having served a platter of entertainment over the three previous matches, there was an eager excitement to see what African neighbours South Africa and Namibia would offer as the final course of the enthralling African Indoor Hockey series.
South African coach Justin Rosenberg has been asking his team to start off faster and focussed in the matches and he got exactly that as the hosts produced their best first half performance of the series so far. It took the South Africans just 4 minutes to open the scoring with Mustapha Cassiem with a diving shot from the right of the circle. Although the South Africans were made to work hard for the opener, the second came shortly afterwards. Justin Domleo reacted first to a good save from DJ Strauss and the experienced campaigner fired home.
The visitors gave themselves a first impression in the first quarter when dynamic teenager JP Britz pulled 1 goal back from a penalty corner with 20 seconds left in the opening exchanges. Having started the game so brightly the South Africans would have been frustrated that they only led by one goal, but they made sure there was no disappointment in the second quarter.
Mustapha Cassiem made it 3-1 from a quick reaction at a penalty corner variation before his brother Dayaan Cassiem made it 4-1 with a trademark reverse flick from the top of the circle. Despite Namibia pulling one back through Brynn Cleak, South Africa extended the lead with Marvin Simons producing a deft finish after incredible work from Aiden Tun. At the half-time break South Africa led 5-2 and they were pleased at their best first half of the series.
The third quarter however saw Namibia embody the spirit that they have aligned in their values and fought back with a spell of breath-taking hockey to pull level. Dakota Hansen started the revival scoring after a wonderful bit of umpiring from Ayden Shrives allowed the advantage. Then it was JP Brits got his second and third goal to restore parity. The third was a moment of pure quality from the teenager, who heads to PSi U18 Nationals on Monday. Namibia had all the momentum and were looking to capitalise by getting the go-ahead goal, but the African Champions showed why they are exactly that.
Having failed to convert their penalty corner opportunities from the penalty corner the South Africans were able to rely on Mustapha Cassiem who netted his third of the game and 9th of the series, to end the series as top goalscorer.
Remarkably for the first time in the series there was a goalless final quarter and the two teams settled for a one goal deficit.
African Indoor Hockey Test Series Results
1st Test – SA 3-3 Namibia
2nd Test – SA 7-4 Namibia
3rd Test – SA 3-3 Namibia
4th Test – SA 6-5 Namibia
South Africa win the series 2-0.