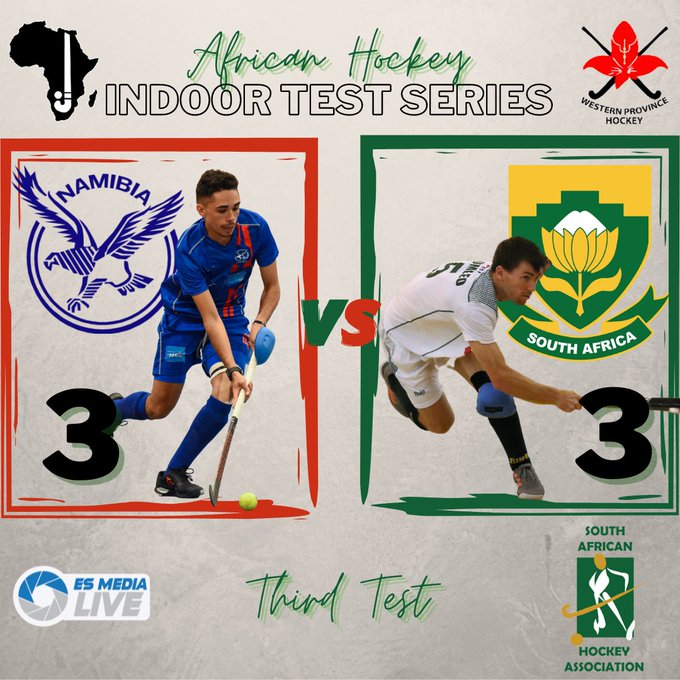 South Africa and Namibia played out a pulsating draw in the third test after a fantastic second half fight-back by Namibia, led by Fagan Hansen as they pegged back a two goal deficit into a one goal lead before failing to hold on to a lead in the final quarter once again. It means the series is still in the balance with SA leading only 1-0 with 1 game remaining.
Having needed a last second equaliser in the opening game and a sensational blitz at the end of the second game to win, the South African Indoor Hockey Men were looking to start better, brighter and put the Namibians to the sword. They did exactly that as they dominated the opening exchanges.
That early domination was turned into an early goal when Lungani Gabela netted his second of the series to give the African Champions the early lead. It was a lead that felt like it was very close to being doubled sooner rather than later and that was duly the case as Steven Paolo got the goal that his first half performance deserved. South Africa were then gifted an opportunity to stretch the lead as JP Britz received a yellow card, but despite their dominance the South Africans were met with a resolute performance from the Namibian defence. 2-0 the half half-time lead, but a rather fragile lead in the game of indoor hockey.
And so it proved to be as Namibia produced their best second half display of the series so far marrying defensive stability with attacking nous. They pulled the first goal back through David Britz who picked up after a right side carry came through to him on the back post. The belief that grew from that was massive as Namibia surged looking for a leveller.
They found that leveller as the third chukka came to an end. This time it was the lethal Fagan Hansen who finished superbly with a deflection from a David Britz ball. It was the type of precision that would make Trevor Cormack incredibly proud and no doubt the Namibian fans watching at home would be pumped by it.
The comeback was complete when Fagan Hansen scored his second quite easily after a great drive from JP Britz and leaving Mngoma with no chance. Having seen leads lost in the final quarter of both games so far, Namibia would desperately want to hold on for the victory this time round.
They were unable to do so as the hosts were awarded a penalty stroke for a push through the back of Keegan Hezlett. Mustapha Cassiem stood up and finished giving DJ Strauss no chance in the Namibian goal.
South Africa surged forward looking for a winner but they were superbly kept out by DJ Strauss and his defenders, while they nearly had their own opportunity to win it through a golden chance for Liam Hermanus but it ended 3-3 after Mngoma pulled off an important save! A wonderful advert for the game of indoor hockey.
The series will be decided in the final game tomorrow.