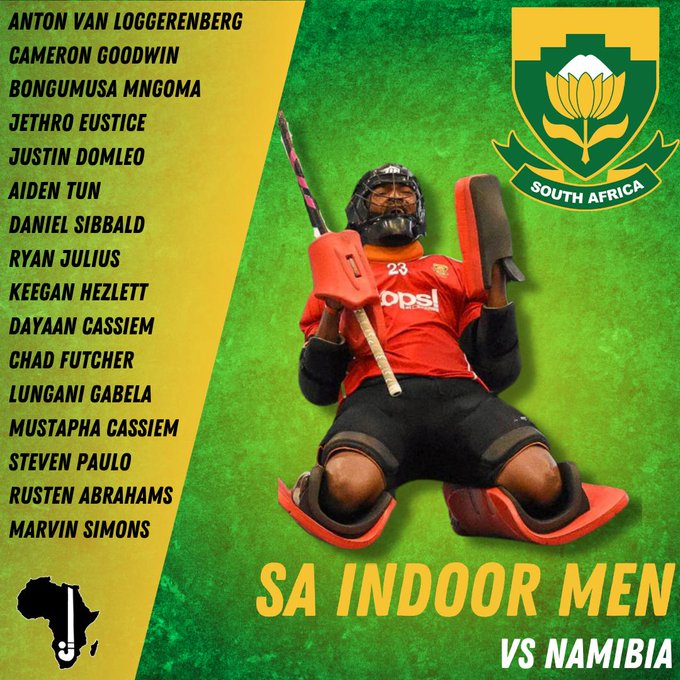 South African Hockey has today announced the team for the African Hockey test series between South Africa and Namibia at Sunningdale in the Western Cape. With both teams heading to the FIH Indoor Hockey World Cup in February in Belgium the four-test series, officially sanctioned by African Hockey, offers the teams a wonderful opportunity to test their processes and plans.
The two locked horns in the final of the Indoor African Cup of Nations at Thomas More College in Kwazulu Natal earlier this year, and all 12 players from that series are retained by the SA Indoor Hockey Men and are bolstered by another four players. The series will be a last chance for players to stake a claim for a place on the plane to Belgium.
The four that missed out on the African Indoor Cup of Nations are Ryan Julius, Cameron Goodwin, Keegan Hezlett and Marvin Simons make up the 16. Several the players went to the Olympic Games this year including Eustice, Abrahams, Julius and the Cassiem brothers, while Aiden Tun and Marvin Simons have just got back from the FIH Junior World Cup in India.
The team has a great amount of experience in the camp as well with Eustice, Abrahams and Domleo having featured at the FIH Indoor Hockey World Cup in 2018 in Leipzig.
Match times are now confirmed as follows:
All matches will be live streamed on the ES Media YouTube page.
It will also be the first series under the tutelage of Interim head coach Justin Rosenberg and interim assistant head coach Cameron Mackay who will lead the team through completion of the World Cup. The remainder of the technical staff remain the same from the Indoor African Cup in Robert Goslett (Video) and Nathan Diedericks (Manager).  Zoe Woolman will be the physio for the series
SA Indoor Hockey Men vs. Namibia
| | | |
| --- | --- | --- |
| Player | Province | Caps |
| Anton Van Loggenberg | Western Province | 8 |
| Cameron Goodwin | KZN Raiders | 5 |
| Bongumusa Mngoma | KZN Raiders | 5 |
| Jethro Eustice | KZN Raiders | 31 |
| Justin Domleo | KZN Raiders | 38 |
| Aiden Tun | Western Province | 8 |
| Daniel Sibbald | KZN Raiders | 5 |
| Ryan Julius | Western Province | 16 |
| Keegan Hezlett | KZN Raiders | 3 |
| Dayaan Cassiem | Western Province | 8 |
| Chad Futcher | Southern Gauteng | 9 |
| Lungani Gabela | KZN Raiders | 8 |
| Mustapha Cassiem | Western Province | 8 |
| Steven Paolo | Northern Blues | 7 |
| Rusten Abrahams | Southern Gauteng | 19 |
| Marvin Simons | Southern Gauteng | 3 |